Education, Medical Unions Issue Elaborate Conditions For School Reopening
Education stakeholder unions on Wednesday, May 27, released elaborate conditions for the reopening of schools across the country.
The unions included Kenya National Union of Teachers (KNUT), Universities Academic Staff Union (UASU), Kenya National Commission on Human Rights (KNHCR), Forum for African Women Educationalists (FAWE) and Kenya Medical Practitioners and Dentists Council.
KNUT chairman Wilson Sossion stressed on the importance of managing the high Covid-19 numbers first before the reopening of schools.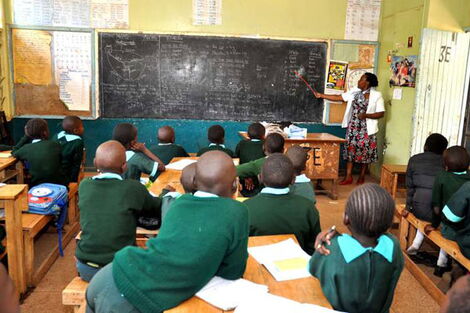 A teacher and students inside a classroom at Kawangware Primary School, Nairobi, on October 5, 2015.
"Flatten the curve first, countries that reopened schools before the curve was flattened have had to pay the price, we have seen France.
"The countries that reopened schools after flattening the curve are doing very well particularly the Scandinavian countries and even in Asia," warned Sossion.
A push for Four Four and Class Eight candidates to resume schools in July was rubbished by Sossion who highlighted their vulnerabilities.
He added that KSCE and KCPE was not a ticket to heaven and could be postponed to a suitable time because maintaining a social distance between students in the existing classroom setup was a challenge.
The measures included ensuring that the Covid-19 curve was flattened first as per the analysis done, to assure the safety of teachers, lecturers, support personnel and learners before reopening of schools.
The Ministry of Health projected that the peak of the curve was going to be witnessed between August and September and as such stakeholders recommended that schools could not be reopened until September.
The second condition cited UNESCO guidelines for schools reopening and that the decision on reopening of schools needed to be guided by the best interest of the child and over overall public health considerations.
The government was also urged to do mass testing for all students and teachers of all boarding schools before reopening schools once the pandemic was contained and those who were sick be allowed to stay home until full recovery.
An elaborate and solid plan on occupational safety and health assessment for all schools by safety consultants and the Directorate of Occupational Safety and Health was suggested.
Another condition was the periodic risk assessment of the teachers based on the World Health Organization (WHO) guidelines for risk assessment for health care workers.
The setting up of special treatment facilities was also floated by the report to handle any cases that could arise to ensure access to health services by teachers, lecturers and non-teaching staff and learners.
A decision on reopening schools should be considered as a stepwise process that requires a very skillful, careful and cautious selection to deal with situations prior to reopening during the process of reopening and management once reopened, the joint statement recommended.
Prior to the reopening of schools appeal to the government with the support and particularities input of key stakeholders to prepare critical policies procedures and financial plans needed to improve schooling with the focus on safe operations.
As part of the reopening process, the government was urged to adopt proactive approaches to reintegrate marginalized and out-of-school children and to invest in water, sanitation and hygiene to mitigate the risks and focus on remedial education to compensate for lost instructional time.
The report was drafted after expert advice from Professor Florentius Koech from Moi University and Professor George Osanja from the University of Nairobi among others.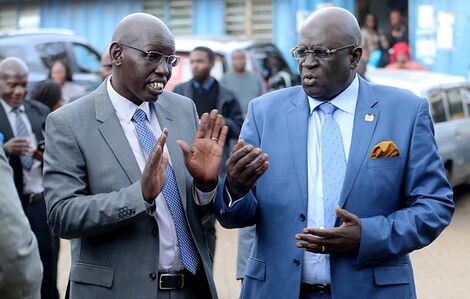 Basic Education PS Bellio Kipsang with CS George Magoha at the Kibra DO's office on January 27, 2020.
Related