Engineer Lucy Wanjiku Mutinda- Recycling Wastewater for Home Use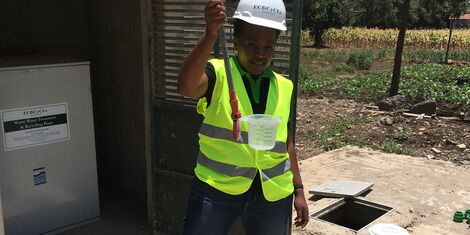 Lucy Mutinda has managed to bring to life the saying, "one person's trash is another person's treasure".
The Mechanical Engineer initially had a go at the automotive industry having worked for General Motors and DT Dobie after completing her University studies. She, however, says that even at these prestigious firms, she felt something was missing.
"My mother always wanted me to be a doctor, but deep inside I felt I was not comfortable dealing with sickness and patients. I always told her I wanted to be an engineer," Lucy Wanjiku Mutinda narrates.
After securing a spot at an Engineering Programme in Germany, Lucy finally knew what she wanted to do.
Having come been back home for over five years, in 2014, aged 34, Lucy was distraught with Nairobi's poor drainage and sewerage systems. This coupled up with her love for the environment prompted her to start her own firm.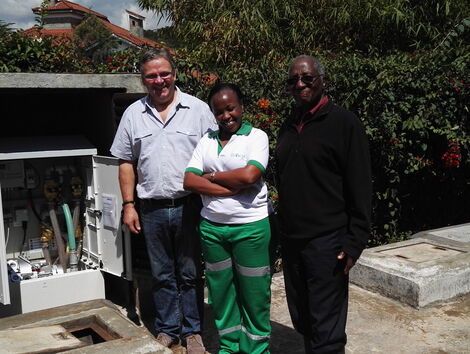 Lucy Wanjiku Mutinda with satisfied customers during a spot check at one of the installation sites
"I used to really love visiting the parks when I was in Germany. One time while I was at the park I got curious about a fountain," she explains.
Intrigued by how the fountain was running the young engineer approached one of the park attendants to find out more.
"He told me it was treated wastewater (sewage water) that actually comes back, and is reused to water the parks and run in the fountains," she marvelled.
Lucy says she had to bring this technology back to her home country.
"When I think about my city, When I think about my city, I will come across sewerage flowing in channels and burst sewers. I wanted to change this," she added.
EcoCycle, which focuses on homeowners and developers, has been installing onsite sewage waste management systems in hotels, institutions and homes.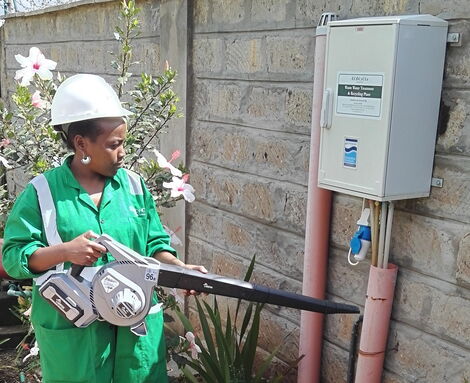 Lucy Wanjiku Mutinda during a maintenance visit on November 29, 2016
Lucy says the first project she landed was with Enashipai Spa, and since then, the recycling firm has installed the recycling system in apartment blocks, single homes and other institutions across the country.
Through advanced technology and a biological process, EcoCycle converts wastewater to clean reusable water.
Lucy says the treatment of human waste is conducted through a process where bacteria eat the organic waste (faecal matter) collected in an underground chamber and produce water that homeowners can use to irrigate gardens and lawns, flush toilets, wash car parks among others.
The young entrepreneur was in March 2020 appointed as the second Vice President of the Institution of Engineers of Kenya, a lobby group aimed at pushing for the involvement of engineers in facilitating public and private projects across the country.
"We want to ensure that mishaps such as buildings collapsing do not happen in the future," she noted.
Related