Entire Family Arrested After Dad Murdered Outside Gate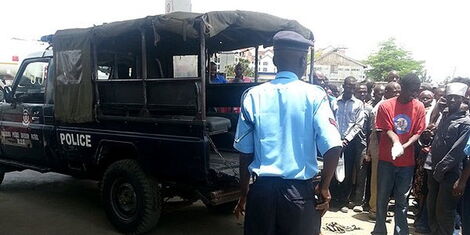 FACEBOOK
An entire family in Nakuru County is in custody following the murder of the patriarch outside their house gate.
Detectives investigating the murder of Charles Thairu Kinyanjui singled out his wife, son and daughter as suspects in the incident that occurred on September 8, at Barnabas Area.
According to the police, the arrest of the nuclear family members was effected after detectives found inconsistencies in the circumstances surrounding the murder.
"The deceased was found in a pool of blood in his car parked outside the gate to his home, yet there were bloodstains in one of the bedrooms which someone had attempted to clean," DCI stated.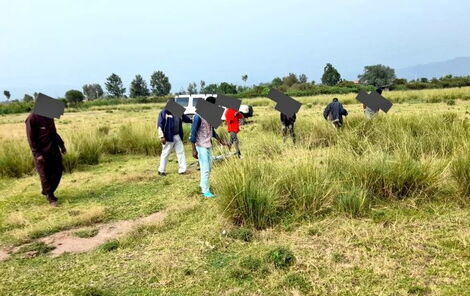 Suspect leading police to his hideout in Ndimu Ndege area, Nakuru County.
TWITTER
DCI
The wife (48), son (23), and daughter (24) told detectives that they had allegedly found the 59-year old man unconscious and rushed him to Mediheal Hospital where he was pronounced dead on arrival.
They were immediately arrested for interrogation. The son who was reported to have disappeared presented himself to the police on Saturday, September 12, three days after the death of the father.
Upon his surrender and interrogation, detectives proceeded to Ndimu Ndege area within Bahati sub-county where they recovered several exhibits from his hideout.
It was revealed that, the son had tried to dispose of the murder weapons and burned his bloodstained clothes.
Among the exhibits recovered were two metal rods, a bloodstained iron file, remains of burnt clothes, several syringes, and a cash savings tin.
The suspect was booked with the rest of the family in cells as police carry out investigations.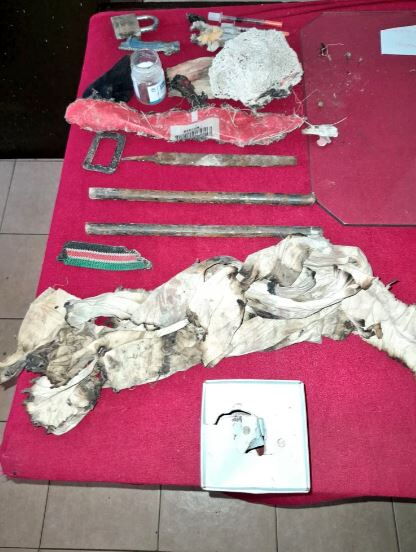 Some of the exhibits recovered police after accessing a suspect's hideout in Ndimu Ndege area, Nakuru County.
TWITTER
DCI
Nakruru county has witnessed some of the most heinous crimes. In June 2020, a mother was arrested after 4 of her children were found dead at their rental house.
In the crime report released in 2018, Nakuru county recorded the fourth most numbers of homicides after Nairobi, Kiambu and Meru.
An Economic Survey released by the Kenya National Bureau of Statistics (KNBS) in April 2020 showed that cases of homicide rose by 4% to 2,971 in the entire country in 2019.
Murder cases registered at the High Court increased to 1,171 although murder convictions dropped to 243 in the same period.
Related