Eric Amerix: Masculinity Coach's Controversial Advice on NTV Goes Viral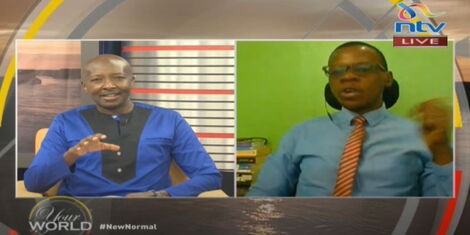 On Friday, May 15, Eric Amunga AKA Amerix, a masculinity coach, appeared on NTV's Your World show for an interview where he gave his views on how boys should be raised to be more present in the society.
Amunga, who is also a certified medical consultant in reproductive medicine, did not mince his words stating that the role of the man was clearly defined in society.
Subscribing to the traditional roles in the family, he held that a mother is supposed to be in charge of the nurturing of the children while the man is supposed to lead, mentor, and show direction.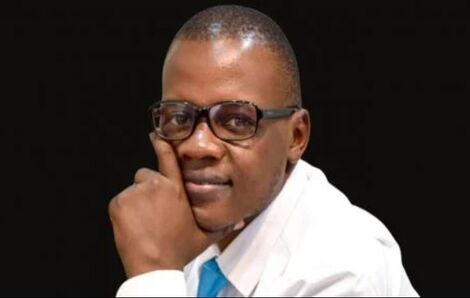 Eric Amunga a medical consultant based in Western Kenya who has gained popularity on Twitter.
"Your presence as a man will be felt if you play your role as the man of the house. You don't have to be there changing diapers."
He advised men not to openly show affection to their wives in public arguing that it was setting a bad example for their children.
"No kissing your wife in front of your children. Do it in private as that will make your children get in the habit of kissing everyone they meet," he explained.
The masculinity coach who has four wives and two children stated that he teaches his children to be strong, creative and innovative while having a certain decorum when interacting with the opposite sex.
"They (boys) have to learn that they are given the responsibility to take care of the girl. I don't teach them to touch them, kiss them. In fact, I tell them don't cry in front of girls," he added.
The medical consultant further argued that the money of a man belongs to the family and the money of a woman belongs to the woman.
His remarks sparked conversations on masculinity with his name trending at number 1 on Twitter for the better part of the morning with many not subscribing to most of his thoughts.
User Arap Walter argued, "Where do people get the idea that parenting is a fixed role with a manual? We lie to each other so much. I think people should be the best father or mother they never had without feeling limited to traditional roles and societal conspiracies."
Another user Tobia Omondi shared a similar opinion stating, "This is toxicity. Where one gender assumes superiority over the other gender. Hidden toxicity is to assume men and women are equal in the ways we want them to be equal. Certain weaknesses of the male are strengths in the female."
Here are more reactions: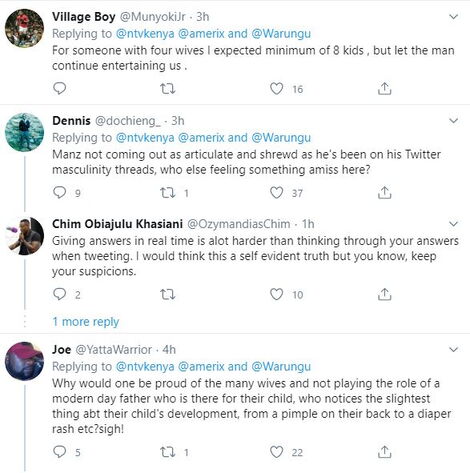 Reactions to Eric Amunga's comments while appearing on NTV's New Normal Show on Friday,
Related