EX-CS Mwangi Kiunjuri Changes Tune, Supports Uhuru [VIDEO]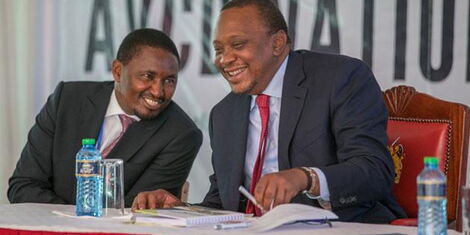 TWITTER
Former Agriculture CS Mwangi Kiunjuri, on Sunday, November 29, made and U-turn and thrown his weight behind President Uhuru Kenyatta barely a year after he was unceremoniously ejected from the Cabinet.
The Tea Service Party (TSP) leader, who was a longtime critic of the Building Bridges Initiative (BBI), disclosed that he had a change of heart because the document factored in the needs of the people.
He further noted that the BBI, which is being championed by Uhuru and former Prime Minister Raila Odinga, addresses concerns of the majority.
"We are looking at this draft bill, study it, engage our people and we shall give our verdict. We are very clear on all those issues that are contentious.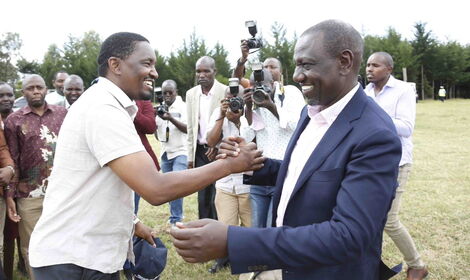 Former Agriculture CS Mwangi Kiunjuri (Left) and Deputy President William Ruto pictured at Thiru Secondary School, Laikipia County on February 22, 2020.
"If those issues have been addressed, we shall sit down as leaders… We already agreed that the MPs who are coming should not be flower girls. They should come with money for their constituencies," he stated.
Also read;
He further noted that Laikipia County would get an extra Parliamentary seat and more money for development.
The change of heart comes barely a year after the CS was relieved of his Cabinet duties unceremoniously in January 2020 by the Head of State.
At the time, Kiunjuri was shown the door allegedly because of his continuous talk over 2022 despite the president's warning to his staff not to engage in politics.
Shortly after his firing, Kiunjuri held a press briefing announcing that he was not surprised by the decision the president made. He called it a relief.
Ruto change of tune
His support comes a day after Deputy President William Ruto disclosed that he was constitutionally obligated to support the Head of State.
The DP had argued that he had a constitutional duty to support the Head of State with the goal being to get a consensus for Kenyans to have real choices to decide on.
"I have a constitutional duty to assist my boss, the President. We have made improvements to BBI report after the Bomas event.
"We need to avoid yes/no, all/nothing division. We avoided lose-lose we can overcome win-lose to achieve win-win," Ruto stated.
Related