EXPLAINED: 447 Missing Covid-19 Cases in Total Tally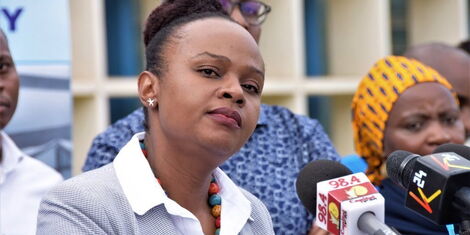 Health CAS Mercy Mwangangi on Friday, May 29, clarified a discrepancy in the country's total coronavirus cases.
Responding to a question by Citizen TV's Waihiga Mwaura during Thursday's briefing where 447 cases were not accounted for, Mwangangi explained that there was a misunderstanding between samples tested and people tested.
"One patient can consume more samples in any case of determination of a positive or a negative case. There is a protocol to follow to determine this. So when we say we've had 70,000 samples tested it doesn't mean we've tested 70,000 individuals," she explained.
Health Ministry's Director of Health Dr. Patrick Amoth elaborated further on the figures stating that the situation wasn't unique to Kenya as it was a worldwide practice to carry out multiple tests to establish the status.
"We have to do multiple tests and at some point, a repeat case can be reported as another separate case," he elucidated giving the example of Friday's figures which recorded 1,745 cases.
Out of that figure, 671 are admitted to various hospitals in the country, 438 have been discharged and we have recorded 62 deaths.
Amoth stated that there were 130 patients in isolation at home due to either old age, breastfeeding mothers and pregnant women who are asymptomatic.
He further stated that there were 140 individuals who'd been classified under the critical group because of giving the wrong contacts.
An additional 30 cases were attributed to foreigners and drivers who'd been tested at border points including Namanga and Isibania.
"Due to the agreement we have with our neighbouring countries, some have requested that their nationals be taken back rather than being isolated in a foreign country," he disclosed.
The Ministry had reported 127 positive cases which now left 147 cases unaccounted for. This number, he explained, was the previous day's positive cases that hadn't been uploaded to the national database yet.
"To avoid this misunderstanding we've partnered with various agencies to ensure the data is acquired in realtime. We'll continue to add up the figures in realtime from the counties so that they continue to add up," he conveyed.
Related