Fake Doctor Exposed by Lancet Hospital CEO During Interview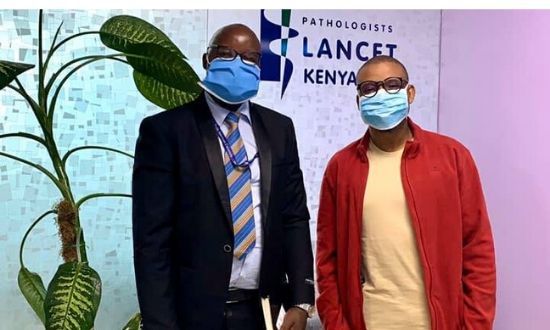 Pathologists Lancet Kenya (PLK) CEO Ahmed Yakub Kalebi (right) and Osborne Embiruka Nelson Nyandiva on Tuesday, April 21, 2020.
Osborne Embiruka Nelson Nyandiva a pathologist as indicated in his curriculum vitae, was exposed as a fraud after a meeting with Pathologists Lancet Kenya (PLK) CEO Ahmed Yakub Kalebi on Tuesday, April 21, 2020.
Nyandiva had been referred to Kalebi by a senior clinician colleague, after alleging he was a young Kenyan pathologist based in St Lucia West Indies having worked in Samoa and Australia.
Taking to his social media page, later April 21, the Lancet CEO revealed that the documents presented by the pathologist were too good to be true, further sharing news articles published by Samoan media outlets, exposing Nyandiva as a fraud.
"Dr Osborne Nelson introduced himself to me today as MBChB, MMed Path, FRCPath, PhD, saying he has been 'stuck' in the country after being grounded by the travel disruptions due to Covid-19 pandemic while he was on leave back home," Kalebi narrated.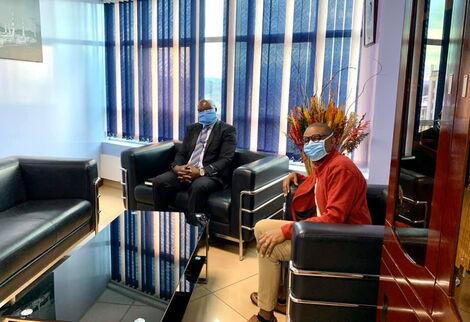 Pathologists Lancet Kenya (PLK) CEO Ahmed Yakub Kalebi (right) and Osborne Embiruka Nelson Nyandiva on Wednesday, April 21, 2020.
Before learning of the fraud accusations against Nyandiva, Kalebi stated that he had been looking forward to engaging him in research and academic collaborations in pathology.
He had presented a distinguished CV indicating a highly qualified individual with stints at various academic institutions, experience working both in medical facilities and lecturing, among several other elite memberships.
"Dr Osborne Nelson says he undertook his undergraduate and postgraduate studies at the University of Southern Queensland in 2009 and Western Sydney University (2013) in Australia respectively then completed his PhD in Anatomical Pathology at Stellenbosch University in South Africa (2018) as well as a pathology residency in Weill Cornell Medical College in New York," kalebi narrated.
"Dr Osborne Nelson says he is currently an Associate Professor of Pathology and the Director of Pathology at the International American University School of Medicine in St Lucia territory in the Caribbean since early this year.
"He says he has previously worked at the National University of South Pacific in Wellington, and also at Tupua Tamasese Teaching and Referral Hospital both in New Zealand and Samoa, as well as the Perth Cancer Hospital in Perth Australia," he added.
Nyandiva's CV showed that he was widely published and a member of several pathology associations with grants he has won over the years, he was involved in various researches and supervised PhD and Masters students from Africa.
Kalebi in his post attached screenshots from Nyandiva's CV exposing the false details in the documents.
"He claims having published with my colleague Dr Charles Mwangi Wahome who doesn't even know him, and also claims he supervised MMed dissertations of my two other colleagues Dr Joseph Sumba and Dr Marijani Msafiri yet those two pathologists qualified over a decade ago," Kalebi revealed.
An article by Samoa Observer published on Junee 13, 2019 revealed that Nyandiva was under investigation in the Pacific country after authorities in the country raised concern over the legitimacy of his academic credentials.
The publication further alleged that he had been examined by the St. Francis University College of Health and Allied Sciences (S.F.U.C.H.A.S.), East Africa over a similar matter.
Then a senior lecturer at the National University of Samoa, Nyandiva was suspended by the Office of the Attorney General and the Medical Council of Samoa.
S.F.U.C.H.A.S administrator Musa Mgaya told the publication that they had established his documents were fake after they employed him, after submission to the Board of Pathologists.
"We, later on, discovered that he even forged his endorsement letter from the Tanzania Commission for University which has the discretion to scrutinize foreign awards before someone can work in Tanzania," Mgaya stated, further noting that Nyandiva, "had no knowledge relevant to imparting pathological knowledge and skill to students."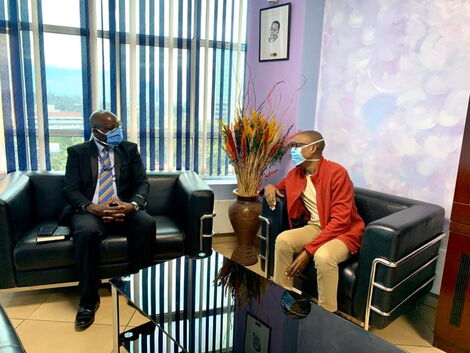 Pathologists Lancet Kenya (PLK) CEO Ahmed Yakub Kalebi (right) and Osborne Embiruka Nelson Nyandiva on Tuesday, April 21, 2020.