Family Narrates Brutal Murder of Kin by Police During Curfew [VIDEO]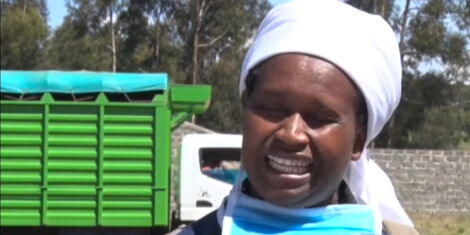 Two families from Kisumu and Laikipia Counties are seeking justice after the death of their kins in the hands of police enforcing the government's Covid-19 directives.
40-year-old Maurice Ojwang' is said to have exchanged words with police officers due to one of his employees failing to wear a face mask on Wednesday, May 20.
The police descended upon Ochieng with a severe beating before he was released on Thursday, May 21. Ochieng later collapsed on Monday, May 25 and was rushed to Kombewa Hospital where he was pronounced dead on arrival.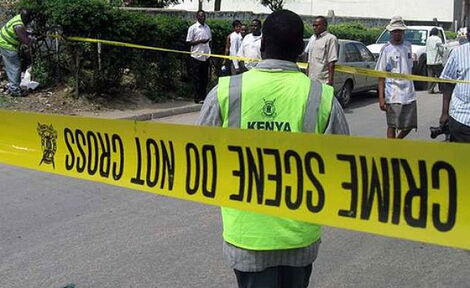 A Kenyan Police Officer at a crime scene
Steven Githinji was in Gwakung'u area of Laikipia County when he was allegedly killed by police officers after trying to seek refuge at a nearby hotel during curfew hours.
Githinji who was in the company of three men was later found lying in a pool of blood by the other two who had managed to flee from the police.
Elizabeth Nyagothie, Githinji's sister, noted that he was the eldest in the family and police left him with injuries on the head that caused his death.
"He was beaten by the police in the hotel. We ask for justice, the painful part is not only his death but hearing that the act was done by the police.
"We left our mum who is old in the mortuary, we ask for justice. He was severely injured on the head I don't know whether he was stabbed or what? and the doctor said that he had a blood clot in the head," explained the sister.
According to one of the three men, they had gone to buy spare parts for a motorcycle and on coming back they were caught up with the curfew as they had to push the boda boda.
Richard Ogalo, Ojwang's brother is seeking justice and help as the widow is now left with three kids with the youngest being born two months ago.
"We are asking the government or whoever is concerned please help us so that justice can be done. We now have police officers who are beating us instead of protecting us. Ojwang' was very healthy, we can't say he was sick. He had been doing his work.
"He has left a wife with three kids the youngest is two months old. Now what are we going to do with the young boy? who is going to take care of the widow? We are really asking for help," Ojwang' lamented.
Related