Father Ready to Die for Infant as KNH Bill Surpasses Ksh530K [VIDEO]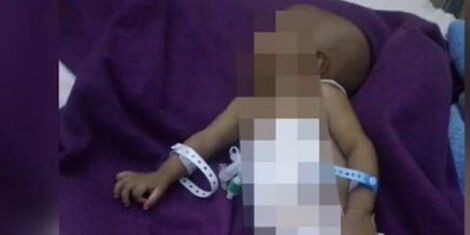 A young family in Lenana, Nairobi is struggling to raise money to meet the Ksh 530,000 bill issued to them by Kenyatta National Hospital, after their 5-month old baby was admitted to the facility after birth.
Speaking with Ebru TV on Wednesday, May 27, Emily Anduku's father lamented that he was ready to die for his child adding that he had already contemplated stealing his daughter from the hospital.
Identified as Bonface, the man argued that he had resorted to the plot after all his efforts fell on deaf ears.
Bonface's daughter was admitted after she developed breathing complications at birth on January 1, and he now fears that the bill will continue soaring.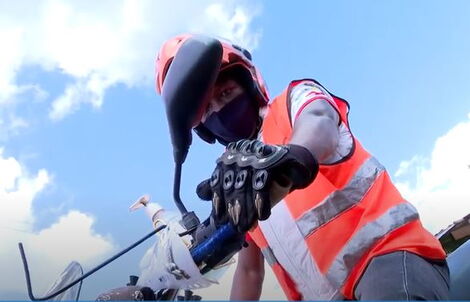 Bonface, Emily Anduku's father during an interview with Ebru TV on Wednesday, May 27, 2020
The boda boda rider had already raised money from selling his cow in his rural home and had bought a nasal cannula tube (for breathing through the nose) at Ksh 10,000 after Baby Emily was admitted. His boda boda hustle can't raise enough to feed the family and pay for the hospital bill.
"It's so painful when you are asked to raise such an amount of money. I can't think of any other way to do so. Let them kill me if they want to. If push comes to shove, I will have no other way but to steal my child. If I find a way through I will do so. The only hindrance is that I am afraid of facing the rule of law.
"When my mum sent me money raised from the sale of the cow, my sister was also admitted to the hospital. However, she understood my predicament and my baby was prioritized. I hoped NHIF would save me but I was left wondering," Boniface disclosed.
The baby was being fed through a nasogastric tube as the mother who has spent five months alongside her, cannot breastfeed the ailing daughter.
More financial woes hit the family after Coronavirus (Covid-19) broke out in March 2020, as the daughter contracted the disease, according to the father.
"Then we heard that she had contracted coronavirus and the doctors too went into quarantine.
"We were asked to stay at home," he disclosed.
He added that the outbreak halted his daughter's treatment and led to the bills accumulating as KNH diverted staff to avoid contracting the virus.
Video: Ebru TV
Related