Female Kenyan Athlete Breaks World Record in Prague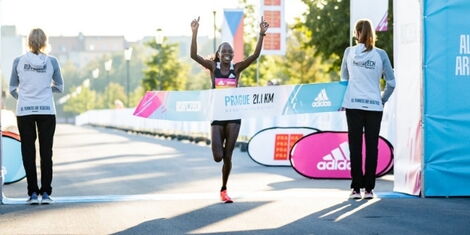 FILE
A female Kenyan athlete has shattered the world record in the women-only half marathon held in Prague, Czech Republic.
Peres Jepchirchir ran the 21.1-kilometer race at a record 1hour 5 minutes and 34 seconds (1:05:34) on Saturday morning, September 5.
She broke Ethiopia's Netsanet Gudeta's record of 1:06:11. Gudeta set the record in Valencia, Spain in 2018.
The 26-year-old broke away from the small field just 20 minutes into the race.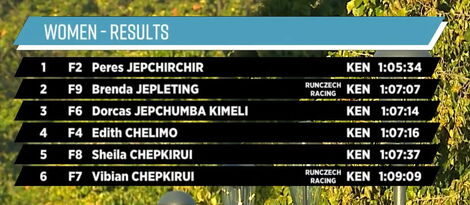 A board indicating Peres Jepchirchir's new world record in the women-only half marathon in Prague, the Czech Republic on Saturday, September 5, 2020
FILE
She set out on a ravaging pace over the 16.5-lap course in Prague's Letna Park, passing 10 kilometers in 30:32.
She slowed over the waning laps but still finished well under the previous mark.
"I was thinking to run maybe 1:04:50, but I'm so happy," said Jepchirchir, who raced at the world half marathon title in 2016.
This is Jepchirchir's second world record over the distance. She clocked 1:05:06 in a mixed-race in Ras Al Khaimah in 2017, a record which stood for just under two months.
"Congratulations Peres Jepchirchir on shattering the women-only half marathon world record.
"You have made Kenya proud. Hongera!" ODM leader Raila Odinga led the plaudits.
On Sunday, October 4, Kenyan athlete and World Record holder Eliud Kipchoge will also be looking forward to setting a new record in a historic marathon in London, UK. Kipchoge will race elites amongst them Ethiopia's Kenenisa Bekele.
Kipchoge holds the official world marathon record of 2:01:39 with Bekele coming second only two seconds shy. Kipchoge also holds the unofficial record of 1:59:40 after breaking the two-hour barrier in Vienna, Austria on October 12, 2019.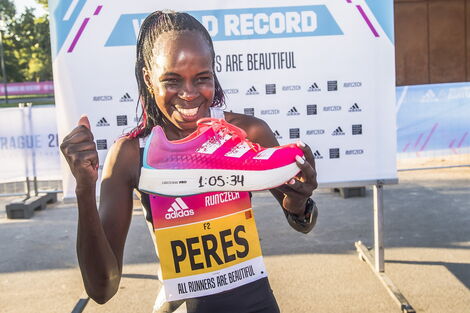 Peres Jepchirchir celebrates after setting a new world record in Prague, the Czech Republic on Saturday, September 5, 2020
Related