Focus on Hypertension as Covid-19 Cases Rise to 6,941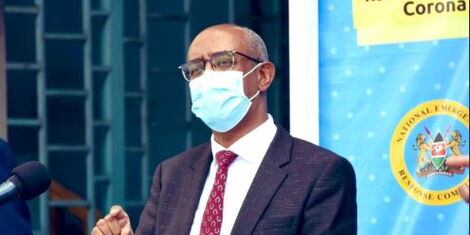 The Ministry of Health on Thursday, July 2, confirmed 268 new cases of Covid-19 in the country, bringing total cases recorded so far to 6,941.
The new cases were recorded from 2,704 samples tested in the last 24 hours, bringing the total samples tested in the country to 176,659
Of the new cases, 259 are Kenyans while nine are foreigners. 160 of the positive cases are male while 108 are female. The ages of the new cases range from a one-year-old to 80 years.
It was announced that 20 patients had been discharged from hospitals, bringing the total number of recoveries to 2,109
The death toll from Covid-19 in Kenya rose to 152 after three more fatalities were confirmed.
Nairobi County is leading with 175 cases followed by  Mombasa, 28, Busia, 18, Kiambu, 11, Kajiado, 9, Migori, 9, Uasin Gishu, 8, Machakos, 6, Narok, 2, Makueni,1, and Muranga, 1.
CAS Rashid Aman noted that most people who have succumbed to Covid-19 virus have underlying diseases such as diabetes and hypertension. In Kenya, six million live with hypertension representing 24% of the population.
"We have 67,465 Hypertensive patients that were seen and reported during this period," he stated.
He noted that the government had put up measures to ensure non-communicable disease clinics remained open during the pandemic.
He also urged patients to show up in hospitals for tests and observe a balanced diet to stay healthy urging them to consume most vegetables, a hood portion of cereals, and plenty of proteins.
"Restrict the amount of sugar, salt, alcohol, saturated fats and fattened meats. Avoid sugar flavoured drinks," he added.
CAS Aman could not confirm at the time of press briefing whether 15 positive cases reported by the County Government of Mombasa Health CEC were part of the 268.
The 15 were part of 83 quarantined students who had been evacuated from Sudan on Sunday. They were quarantined in Mombasa where their tests were taken
Related