Foreigner Pleads for Mercy After Being Cornered by Angry Kenyan Mob [VIDEO]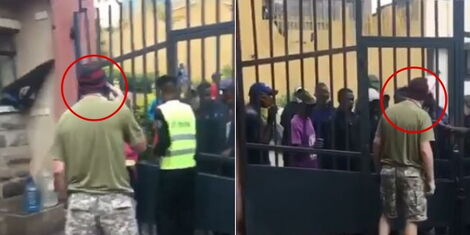 A foreigner found himself in a tight spot after he was confronted by an angry Kenyan mob in Nairobi.
The foreigner pleaded for mercy and further accused the mob of planning to lynch him for the death of George Floyd, an African American murdered by police officers in the United States.
In a video shared on social media on Thursday, June 18, the foreigner was reportedly cornered engaging in unidentified illegal business.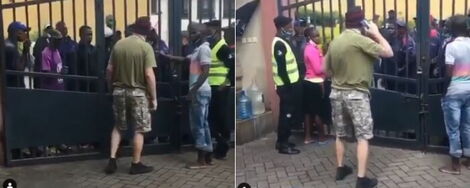 The foreigner who was confronted by an angry Kenyan mob on Thursday, June 18, 2020
"The security guards alerted the police to go and arrest him. The foreigner started making fake phone calls and using curse words against the Kenyans.
"He also claimed his life is in danger and even brought up George Floyd case," media personality Shaffie Weru posted on Instagram.
In the video, the foreigner dressed in military shorts and a light green t-shirt was locked inside the rental apartment compound, with the mob outside the gate baying for his blood.
"I hate you all. I will kill all of them. Get me out of here. They are blaming me for the death of George Floyd," the foreigner lamented while making calls to an unknown receiver.
The mob pleaded with the security guards to open the gates and let them in as one woman begged them to protect him.
"Wacha agongwe. Si io gate ifunguliwe. Uyu jamaa anatukana watu hapa. (He is abusing us. Let the security guards open the gate and the have the mob assault him)," a member of the mob was heard rallying others.
"Si anangoja gari, muacheni aki. (Let him be, he is waiting for a getaway car)," the woman pleaded.
It has not yet been ascertained what the foreigner had done and if he secured his freedom. However, the incident raises concern on racism and the rule of law.
George Floyd died after a white police officer pinned his neck to the ground, forcing him to suffocate. The incident in the US sparked a worldwide protest after police were accused of brutality and racism.
In Kenya, protests erupted in Nairobi with residents accusing police of brutality and racism after police watchdog, Independent Policing Oversight Authority (IPOA) affirmed that police officers were involved in the killing of at least 15 people since authorities imposed a coronavirus curfew in late March.
Video: 
Related