Former Marsabit MP Godana Dies After Short Illness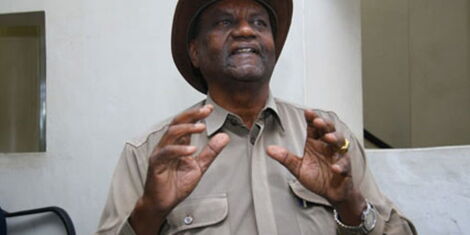 DAILY NATION
Former Assistant Minister of Information and Broadcasting Elisha Godana passed on Thursday, September 3 after a short illness.
The veteran politician who also served as the MP for Marsabit Mountain/Marsabit South in the first Parliament (1963 – 1967) succumbed while undergoing treatment at Marsabit County Referral Hospital.
Among the leaders who mourned the fallen minister was Treasury CS Ukur Yattani who previously served as the governor of Marsabit.
"My condolences to the family, friends and Marsabit community following the passing on of the former Member of Parliament for Marsabit North Hon. Elisha Godana," he stated.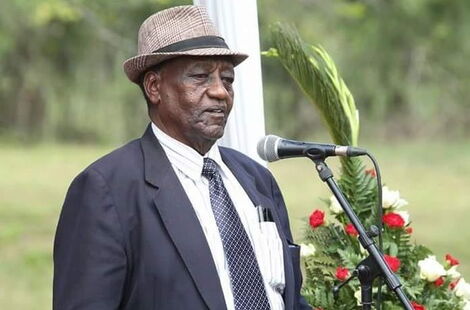 Former MP Elisha Godhana at a past event.
FACEBOOK
Between 1974 and 1979, the late Godana served as the MP for Marsabit North and was later recruited by former President Daniel Moi's cabinet as the Assistant Minister for Information and Broadcasting.
During the late president's burial, the former assistant minister stated that Moi had touched the souls of many as he even paid school fees in support of needy children without discrimination.
He added that apart from Moi being a mentor to many in politics, he would also be greatly remembered for always ensuring that his government reflected the face of Kenya, which enabled him to foster unity among Kenyans.
In 2004, Godana who was a member of the Burji community, during a National Constitutional Review Conference in Kenya, revealed that the government's failure to recognize the Burji almost kept the community from being invited to the constitutional conference.
It was only when the former assistant raised a red flag, were the Burji allowed observer status at the conference. Without his action, they would have been excluded from the national consciences at this crucial point of writing Kenya's future.
"Human Rights are not to be surrendered to the government, they define the relationship between the government and the state and as such define the special treatment of the minorities and the marginalized communities," Godana observed at the time.
Prior to Kenya gaining its independence, he served as a provincial administrative clerical officer at the Marsabit Detention Camp during the late 50s and early 60s.
There, he became a popular figure among Mau Mau detainees who were confined there as he would help dispatch letters to their loved ones.
"They (detainees) were being tortured on behalf of Kenyans. As a fellow Kenyan concerned with the wellbeing of our people, I would bypass the district commissioner by taking and using his official stamp, signing and dispatching the letters," he stated in a previous interview.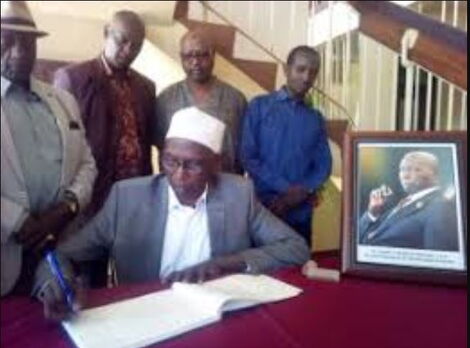 The famous inter-parties parliamentary (IPPG) chairperson J.J Falana of 1997, who was then the MP for Saku inscribes a message of condolence at the County commissioner's office in Marsabit. Looking on is a former assistant minister for information and broadcasting Elisha Godana
Related