Garment Factory Opens in Kisumu After Uhuru, Raila Deal [VIDEO]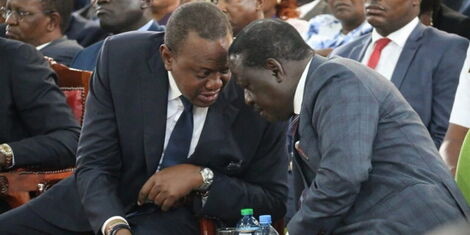 Moi University-owned Rift Valley Textile Mills (Rivatex) East Africa on Thursday, May 28, unveiled a new branch located in Nyando Constituency, Kisumu County dealing with tailoring and stitching of garments.
Area MP Jared Okello who was present at the launch thanked President Uhuru Kenyatta and Prime Minister Raila Odinga for their involvement in bringing the project to fruition following their March 9, 2018, handshake agreement.
He further revealed that, in line with the President's Big 4 Agenda which has manufacturing as one of its pillars, funds had been set aside for the revival of the Kisumu Cotton Mills (KICOMI).
At its peak, KICOMI employed hundreds of Kisumu residents as the textile industry thrived but it collapsed in the early 1990s amid claims of mismanagement.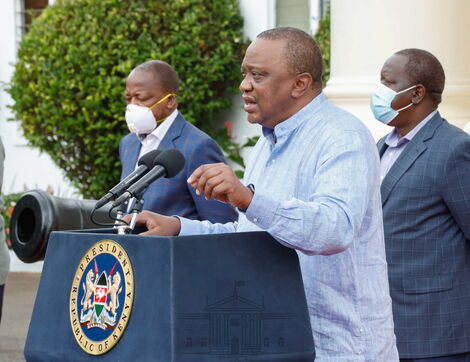 President Uhuru Kenyatta speaking at State House on May 23, 2020
"Both the President of the Republic of Kenya President Uhuru Kenyatta and the [former] Prime Minister Raila Odinga are both aware of what is happening here today and they have given a nod for Rivatex to proceed with this project in this region.
"This will open new avenues here, and extend or expand people's living standards. So with that kind of goodwill right from the top, we are optimistic that this is going to bear major fruits for our people," Okello stated.
Okello asserted that the entry of Rivatex, coupled with the planned revival of KICOMI, would be a great boost for the region's economy as it would create jobs and opportunities.
He rallied behind the handshake and the President's agenda, describing it as an opportunity for the region to hasten its development.
"When Uhuru talked about manufacturing, his main intent was to open as many factories, as many job opportunities, as many manufacturing plants as can be done by the government.
"So yes, there are plans afoot to have KICOMI revived and I know some funds have been availed towards that. But we also have to make sure that we don't waste opportunities such as this.
"KICOMI definitely will be dealing with apparels, just like Rivatex, but this is predominantly going to be about tailoring and stitching of those garments. So, yes, we shall be getting additional materials from KICOMI and some from Rivatex," he stated.
He explained that, with Rivatex struggling to run at optimal levels due to lack of adequate raw materials, KICOMI could step in to fill the gap.
He further dismissed the notion that Rivatex and KICOMI could become competing entities. He argued that they were both under the government and the newly launched Rivatex centre would stitch and tailor garments for both.
Known for Uhuru's colourful shirts, Rivatex also has contracts to supply materials to several government agencies including the National Police Service and Kenya Power, as well as gowns for hospitals for universities.
Watch Okello address reporters at the launch below:
Related