Gen Badi Unearths Cartel Trick Under Sonko Administration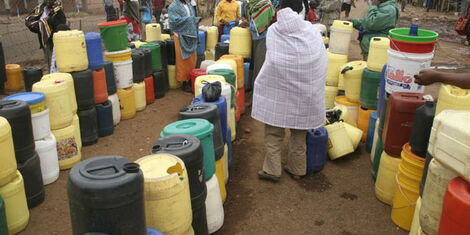 Water shortage has been a common nuisance affecting many Nairobi estates with most administrations pointing the finger at cartels who sell water to desperate residents.
Following numerous complaints by residents of South C who had for years not had water in their taps, Nairobi Metropolitan Services (NMS) Director-General Mohamed Badi deployed his engineers to assess the situation.
The residents had on several occasions filed complaints to City Hall who assured that they were pumping water to their residences. On their end, however, dry taps, for years.
The team sent by Badi and City Hall to find out what was wrong made a stunning discovery. In most cases, pipes are usually cut and sealed off by vandals effectively cutting off the water supply to an estate.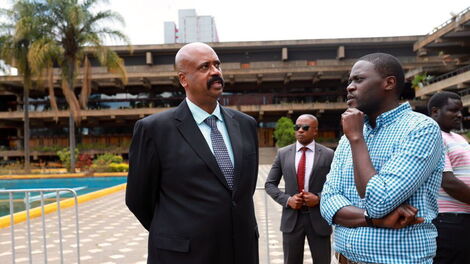 Nairobi Metropolitan Services Director General Mohamed Badi and Senator Johnson Sakaja on Thursday, March 26, 2020.
In the fact-finding mission, the engineers found that the pipes which were supposed to supply water to South C estate had been cut, stuffed with mattresses, and sealed back.
The mattresses put in the system would ensure the residents do not get even a drop of water from the Nairobi City Water and Sewerage Company.
The lack of piped water meant the thriving of water browsers and vendors in the estate. Residents without any alternative were forced to sustain the illegal business by purchasing the water.
The water shortage in South C estate is not an isolated incident as many other estates in Nairobi face a similar situation.
In Kawangware, for example, taps are dry and residents are forced to line up for water with a 20-litre jerrican of clean water retailing at Ksh5.
Catherine Karongo, a resident of Kasarani, where the same quantity of water goes for Ksh70 stated that the source of the water is a concern to many.
"Right now there is Covid-19 even the vendors that are bringing water to us, you're not sure of their health status so you can't keep having people coming to your house to bring water," Karongo remarked.
In the months of April and May 2020, a number of Nairobi estates were affected by a water shortage after 600 metres of the main pipeline that supplies water from Sasumua dam to Nairobi was damaged by a massive landslide in Karemenu River inside the Abadere Ranges Forest.
In a statement, the Nairobi City Water and Sewerage Company Ltd (NCWSC) on May 8, stated, "NCWSC has today shut down water production at Sasumua Dam Treatment works which supply 11.6% of water to the Nairobi City County population."
A report by the World Bank revealed that only 40 percent of Nairobi is connected to a sewerage system and as the city has grown, more poor urban dwellers have been pushed into low-income settlements, where there is little or no water or sanitation.
The sanitation aspect is a crucial piece in ensuring proper hygiene during the Covid-19 pandemic.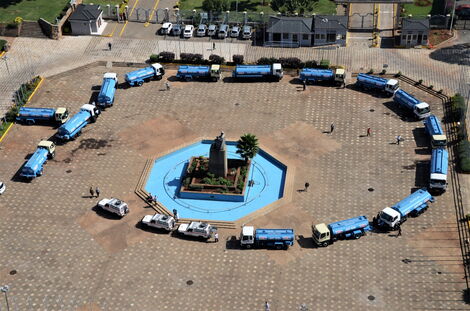 The 22 NMS branded Water Bowsers and 5 Ambulances for use in serving Nairobians that were flagged off by President Uhuru Kenyatta on June 30, 2020
Related