Governor Sonko Offers Ksh300K to Police Boss Who Assaulted Him [VIDEO]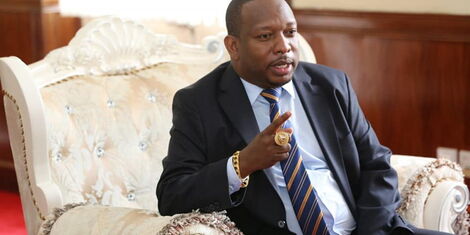 Nairobi Governor Mike Sonko has moved the rescue of a police commander who allegedly assaulted him during an arrest in 2019.
In a statement on Tuesday, June 16, the flamboyant governor shared a clip of the police commander he identified only as Mureithi being confronted by a woman who claimed the two had a child together.
In the video, the agitated woman claims that Mureithi was a base commander in Voi and that he had failed to settle Ksh300,000 upkeep money the court had awarded her.
The governor offered to settle the bill on his behalf noting that the predicament the officer found himself in could befall anyone.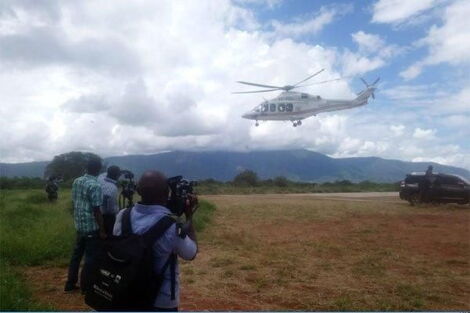 A journalist records as a chopper airlifts Governor Mike Sonko from Voi to Nairobi in December 2019.
He further noted that Mureithi had been part of the officers who forcefully handcuffed him during his arrest in Voi claiming he was evading arrest.
"Pole sana (so sorry) my friend Mr. Mureithi, the recently retired Voi Base commander who forcefully handcuffed me with two pairs of handcuffs just to board a police chopper during my arrest at Voi.
"Even though this was against international aviation laws, may the Lord give you peace to resolve your current situation," stated Sonko.
"My humble advice to you: If the baby the woman is alleging is really yours, kindly accept the responsibility.
"It's just a normal part of life. And since you are now retired, I'm willing to pay for you the Ksh300,000 upkeep the woman has been awarded by the children's court," he continued.
He further revealed that one of the colleagues who worked alongside the officer during the arrest was hospitalised with a kidney issue.
"May you live long to see this kid become a more responsible senior police officer than you were or even become the governor, in future, of any county or even become the president of this great country so that he/she becomes a testimony of any kind of violence to future generations.
"I have also been made to understand that one of your colleagues, who also man-handled me, has a kidney problem. I am as well willing to help in meeting his medical expenses," offered the governor.
Sonko was arrested in Voi at a roadblock in December 2019 as he allegedly tried to evade arrest over allegations of misappropriating over Ksh357 million.
A chopper was sent from Nairobi to fetch the governor and take him into police custody awaiting arraignment.
A video that made rounds online at the time showed the governor resisting to board a police chopper at the Ikanga Airstrip, forcing the police to handcuff him.
Related