Govt Forces Families to Sleep in the Cold After Night Evictions in Nairobi [VIDEO]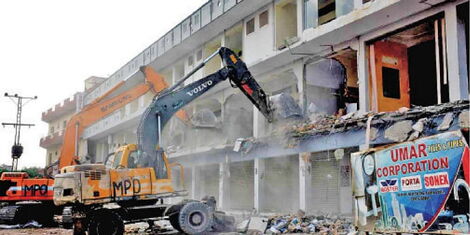 The government continued the reclamation of grabbed land in Ruai, Nairobi, narrowing down on settlers at night through forceful evictions on Friday, May 15.
A number of activists and media practitioners raised concern over how the night evictions were conducted, as reports indicated that demolitions commenced at around 10 p.m.
Families were forced to spend the night outside in the cold, sparking an uproar.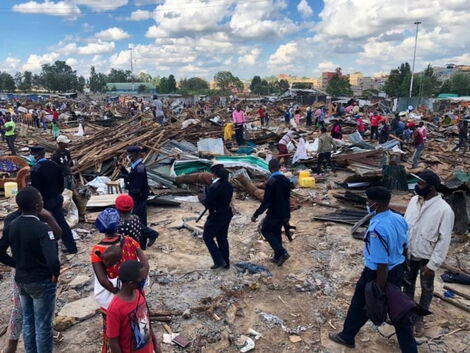 Residents pictured in Kariobangi North, Nairobi after evictions took place on May 4. 2020
"You can't demolish houses at 10 p.m. during curfew and it's raining in Nairobi. We have women and children in those houses. This is not the right thing to do. So where are they supposed to go?" KTN News anchor Lindah Oguttu lamented.
Activist Boniface Mwangi further added that efforts to derail the evictions were frustrated even after Interior CS Fred Matiang'i was sued by the area residents.
"The government had planned to evict the residents of Ruai (Mathare area). The residents obtained a court order stopping the evictions. Interior CS Fred Matiangi was served with the lawsuit.
"The media tried to film the area where the bulldozers were parked and police chased them," Mwangi lamented.
The demolitions in Ruai come a few days after the High Court halted demolitions in Kariobangi North Estate, Nairobi, until a petition by the residents is heard and determined.
More than 7,000 residents in the area had lost their property and were left homeless after their houses were demolished in a bid to reclaim the land.
Some officers found themselves in an ethical dilemma where they had to implement court orders that could cause misery.
"Sometimes the police are in between a rock and a hard place because you find residents were given notice and have known for over two years that they are occupying public land and when the government reclaims it, becomes an issue where human rights are not being observed," Interior CS Fred Matiang'i stated.
Some of the reactions to the government's Friday night, May 15, 2020 evictions in Ruai, Nairobi
FILE
Video: 
Related