Govt Gears Up for Fresh Kariobangi Demolitions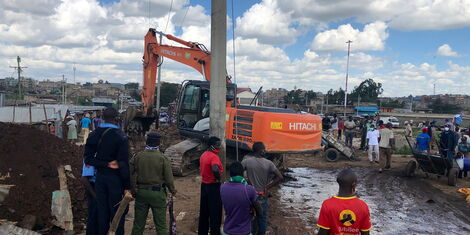 Principal Secretary Ministry of Water and Sanitation Joseph Irungu, on Monday, June 15, announced that the government was gearing up to implement the second phase of a land repossession exercise in Nairobi's Kariobangi area.
"We'll reclaim any land belonging to Nairobi Water and Sewerage Company.
"It's not very easy and it has a lot of emotions but we have to set aside the emotions and face reality. In this case, we won't take our sewage treatment plants to neighbouring counties, we have to manage it within the designated areas within Nairobi County," he explained.
He went on to argue that the construction of the Kariobangi and Dandora-Ruai sewage treatment plants were vital for the country's capital city.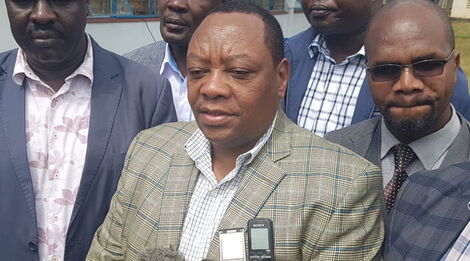 Ministry of Water and Sanitation Principal Secretary Joseph Irungu (Centre).
"These plants will cater to around 800,000 Nairobi residents," he detailed.
Thousands of Kariobangi residents are set to be replaced during the process, with the government targeting to reclaim 60 more acres of land in the area.
PS Irungu further revealed that the Water Ministry was also looking to repossess more land within the county meant for water reservoir projects meant to hold water from the Northern Water Collector Tunnel.
The water and sanitation project was detailed as: Karura Reservoir, Loresho Reservoir, Gigiri Reservoir, Kahawa West Treatment Ponds, Kabete Treatment Works & Tanks, Karen Ponds/Karen Break Pressure Tanks, Dandora Sewerage Works, Kariobangi Sewerage Works, Eastleigh Sewerage Plant, Kikuyu Springs Water Source, Outering Tower and the Farasi Lane pumping station.
"We intend to bring in 140,000 cubic metres of water from the Northern Corridor," PS Irungu further revealed.
The Kariobangi demolitions that took place on May 4, left over 5,000 people who were living in the Kariobangi sewage slum estate,  homeless, leading to a national uproar over the act that was implemented in the middle of the Covid-19 pandemic.
The residents woke up to a rude shock as bulldozers descended on the shanties and flattened them.
The demolition of the structures was carried out by the Nairobi City Water and Sewerage Company in a bid to reclaim the land where the families have been living since 2008.
On its part, the government maintained that the demolitions were done after the expiration of an earlier notice to vacate the land.
The exercise, however, elicited angry reactions from members of the public who accused the government of being inhumane for leaving the residents out in the cold at a time of a crisis characterised by joblessness and with a curfew and a partial lockdown that leaves the families confined within Nairobi.
The High court on Friday, May 15, halted further demolitions of the Kariobangi North Estate until a petition by the residents was heard and determined.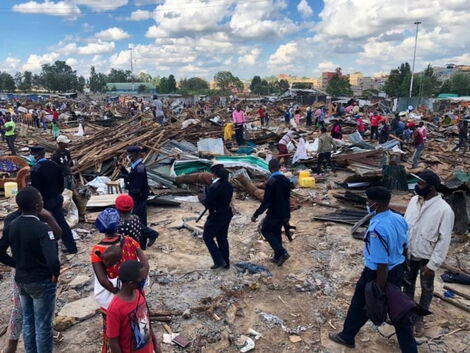 Residents pictured in Kariobangi North, Nairobi after evictions took place on May 4. 2020
Related