Govt Spokesperson Advices Kenyans Planning to Watch EPL Restart in Bars [VIDEO]
Government Spokesperson Rtd. Col Cyrus Oguna on Thursday, June 17, sought to advise Kenyans planning to watch the restart of the English Premier League (EPL) in bars despite Covid-19 restrictions.
He spoke ahead of two games, Manchester City vs Arsenal and Aston Villa vs Sheffield United, scheduled to kick off at 10.15 p.m and 8.00 p.m (East African Time) respectively.
Appearing on a morning show on NTV, Oguna acknowledged that while even he considered a bar the best place to watch games, it was important for Kenyans to prioritise public health and safety over the EPL craze.
He urged fans to consider their inability to watch games in bars as a sacrifice, as they were helping protect themselves and those around them.
"The best place to watch the English Premier League is in a bar. But I will tell you this, there are things that if you forgo them for a while, you lose nothing.
"But once life is lost you can never reconstitute life. So what is important, to go and watch an EPL game in a bar and catch an infection that could make you past tense, or would you rather wait for a while until things stabilise?
"A life lost cannot be recovered. So really, life is more important than watching the Premier League," he stated.
Oguna further confirmed that the return of sports was among issues being evaluated by the National Emergency Response Committee on Coronavirus (NERCC) as it plans on the gradual re-opening of the economy.
He noted that replays of games were always shown but life could not be replaced, urging Kenyans to stay home.
"There is a committee that is looking at everything holistically; economically, socially, all aspects of our society. That committee will come up with a recommendation and that recommendation will be used to make decisions going forward.
"So my advice to people, for now, is until the committee gives its recommendation, our people should be able to value life more than the English Premier League (EPL).
Emmanuel Okiri, an ardent football fan in Bamburi, Mombasa spoke to Tmz.co.ke on how he planned to watch the return of football considering the restrictions.
"I think what it means for fans like me is that we cannot enjoy the restart as much as we would have wanted but at least football is returning.
"You know in the bar there are a lot of fans from different teams, so the taunting and camaraderie make it very interesting and fun to follow the game.
"Personally, I have organised myself to be able to watch the matches at home because I have really missed it," he stated.
He noted that many fans enjoyed watching football in bars because of the special atmosphere that comes with it, stating that he would watch the game at home.
Collins Waiguru, another football fan in Ruiru, told Tmz.co.ke that he expected the restrictions to result in a spike in illegal streaming of football matches.
It is important to note that illegal streaming of exclusive content such as the Premier League is considered an offence in Kenya.
"You know a lot of people also go to bars because they don't pay for various TV services but they are very serious fans. So I expect them to turn to online streaming now that they are stuck at home due to the curfew and bars are also closed," he observed.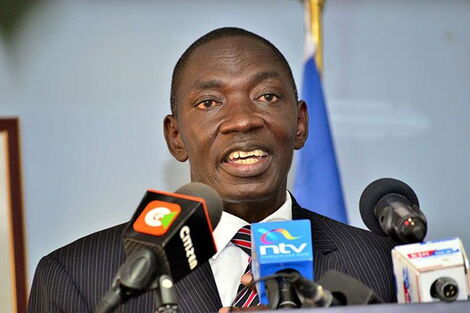 Government Spokesperson Cyrus Oguna addresses a press conference at his office in Nairobi on January 4, 2020
Related