Govt Won't Act on Covid-19 Scare of Eastleigh Escapees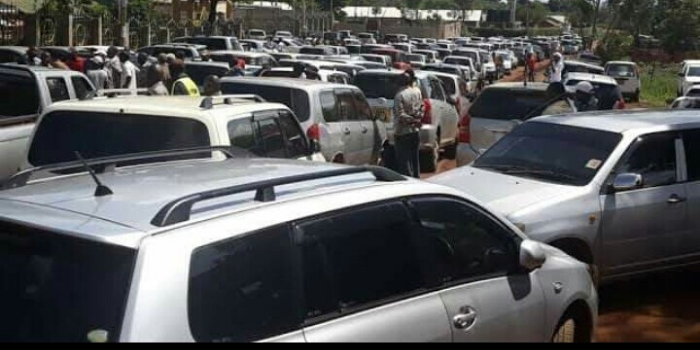 Government Spokesperson Cyrus Oguna has dismissed reports of Eastleigh residents escaping to nearby estates on Wednesday, May 6, immediately after Health CS Mutahi Kagwe imposed the cessation of movement in and out of the Nairobi estate and Old Town area of Mombasa County.
On Wednesday evening, May 6, social media was awash with images alleging that Eastleigh residents were swiftly moving out of the area to avoid being trapped in after 7 p.m.
The residents were allegedly moving towards South C and Parklands estates in Nairobi.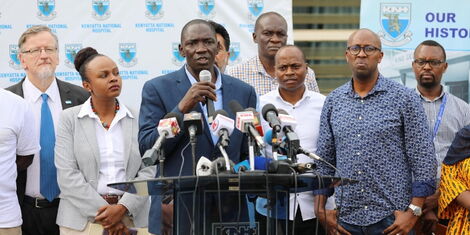 Government Spokesman Cyrus Oguna addresses the media at Kenyatta National Hospital on Saturday, March 14, 2020
"We don't react and act to hearsay and social media remarks. We act on factual evidence and reports. What we are focusing on right now is Eastleigh lockdown and residents adhering to measures stipulated by the government, such as handwashing, maintaining social distance and wearing masks.
"You can't state that the individuals were escaping yet some work in Eastleigh and reside in Parklands and South C. Eastleigh is a working base to many," Oguna clarified while speaking with tmz.co.ke
On Wednesday, May 6,  Kagwe, further declared that there would be a closure of markets, restaurants and eateries within Eastleigh and Old Town Mombasa for the next 15 days.
Kagwe also warned residents of other estates from hosting any individual who may have circumvented the lockdown.
"If you have a colleague who lives in Eastleigh and they come to stay in your house, you will be extremely foolish if you allow them, knowing very well that they have not taken a test. You will be exposing yourself to the Coronavirus," he advised.
Eastleigh residents, on Thursday morning, May 7, protested against the directives after they found roadblocks preventing them from accessing estates near section three that borders Kiambiu and Bahati areas.
The residents, who were expecting to go to work as usual in the Eastleigh Central Business District (CBD), were shocked when they found a heavy security presence near the roadblocks.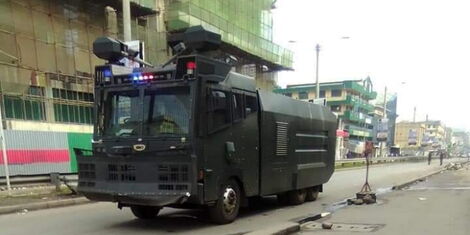 A police tanker spotted in Eastleigh, Nairobi, on Thursday, May 7, 2020
FILE