Gunmen Storm Police Station in Garissa
A file photo of KDF soldiers during a patrol in Kotile town on the Garissa-Lamu-Somalia border, as part of the Linda Boni operation aimed at flushing out Al-Shabaab terrorists.
It is not clear if there were any casualties or damages, with Bunei expected to issue a comprehensive statement later on.
Additional air support from the recently commissioned Modika Barracks were deployed to the area in response to the attack.
President Uhuru Kenyatta, on December 13, 2019, presided over the inauguration ceremony of Modika Barracks in Garrisa County and consecutively launched a Kenya Army Book dubbed 'The Soldier's Legacy.'
The military station serves as the headquarters of the 6th Brigade, tasked with offering rapid response to any combat situation within the high-risk Somali border area.
In June 2019, three al Shabaab militants were killed after they staged an attack at the same Yumbis police post.
During last year's attack, the militants blew up a mobile phone mast, cutting off communication in the area, before launching thier raid in the area.
Al-Shabaab has long posed a significant terrorist threat in areas along Kenya's border with Somalia.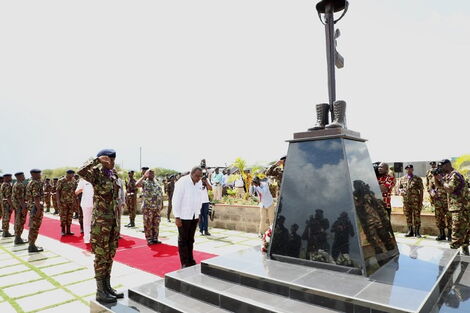 H. E. President Uhuru Kenyatta bows in respect after laying a wreath at Modika Barracks Heroes Monument during the barrack's inauguration ceremony on December 13, 2019.