Heavy Traffic Along Nairobi-Mombasa Highway Caused by Accident [VIDEO]
TWITTER
Hundreds of motorists have been left stranded after a lorry and a trailer collided head-on along the Nairobi-Mombasa Highway on Tuesday, November 17.
The accident happened around Taru and Samburu area as the busy highway was blocked by the wreckage of the two vehicles.
Motorists and passengers have been stranded for several hours fearing they might be caught up with the curfew while still on the road.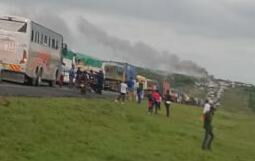 Traffic jam along the Nairobi-Mombasa Highway after an accident between a lorry and a canter on Tuesday, November 17.
TWITTER
Speaking to TMZ.co.ke, a reporter from the coast region revealed that the accident happened in mid-afternoon hours.
"The accident happened at around 3 p.m with unconfirmed reports that the driver of the canter has died after sustaining severe injuries from the crash.
"The traffic snarl-up is several kilometres long and expected to grow with the two lorries still blocking the road," noted the reporter.
The lorry burst into flames shortly after the accident with the goods it was transporting destroyed in the inferno.
The passengers who had boarded buses from Mombasa and Nairobi are kilometres away from their destination with the 10 p.m to 4 a.m likely to catch up with them.
In a separate incident, a grisly road accident occurred at Chepkosa Bridge along Bomet Kaplong Highway.
Unconfirmed reports indicated that three people died in the crash that involved a matatu and a saloon car.
This comes in the wake of NTSA releasing a report that indicated that the number of road accident fatalities countrywide jumped from 3,337 in 2018/2019 to 3,567 in 2019/2020.
Watch Video Below:
Related