Heroic Police Officer's Side Project Saves Entire Village [VIDEO]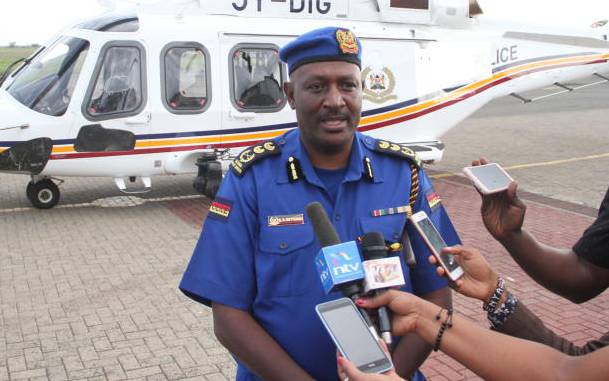 Inspector General of Police Hillary Nzioka Mutyambai address press after boarding a new 5Y-DIG helicopter at Wilson airport on May 3, 2019.
Heroism is not only in the man but in the occasion, is a statement made famous by Calvin Coolidge. Trans Nzoia East Sub-County Administration Police (AP) Commander Osman Galgalo, is living proof.
Aside from his official duties which require him to ensure the safety and security of the residents, officer Galgalo has been working on a borehole-drilling project that has saved residents of Kachibora Village from covering several kilometres just to access clean water.
"With the ongoing Covid-19 pandemic, there was no water here, but I think they now have access to an unlimited amount of water. This is my main aim.
"Following the outbreak, I decided to step up and lead efforts to drill these boreholes that will help maintain proper hygienic standards," he explained.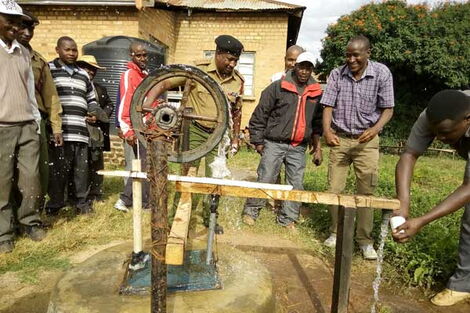 Trans Nzoia East Sub-County AP Commander Osman Galgalo pumps water from one of the boreholes he drilled.
Residents were full of praise for the officer, adding that Galgalo's project was not only helping them stay safe from the deadly virus, but that the boreholes were permanent fixtures and would thus prove to be very important even after the pandemic was contained.
"The river is quite far away and we didn't have the funds or the resources to dig boreholes on our own," Stella Ngeny remarked while speaking to Citizen TV.
John Ngeno, a priest based in the area was full of praise for the officer as well, "You understand that this coronavirus has been reported in these parts of the country and these boreholes are priceless," he stated.
On his part, officer Galgalo maintains that he is looking to set up at least 30 boreholes in the area to ensure that the residents' well being is catered for even long after the coronavirus pandemic subsides.
Galagalo's charity work has played a big role in enhancing working relations between locals and the police.
He joins a list of noble officers who have been going out of their way to help out in their respective communities during this crisis period.
Constable Caroline Makena is also an AP officer who made national news for her mask-making side project.
Stationed at Tot Police Station, Marakwet East Sub-county, Elgeyo Marakwet county, she has been making protective face masks and handing them for free from her precinct.
Once her formal work shift is done, she clocks in at her work station set up within the station where, armed with a sewing machine, an iron box, and rolls of special-purpose material, the officer goes about meticulously manufacturing the life-saving masks.
Watch Officer Galgalo at work below: