How Kenyans United to Applaud Medics Across the Country [VIDEOS]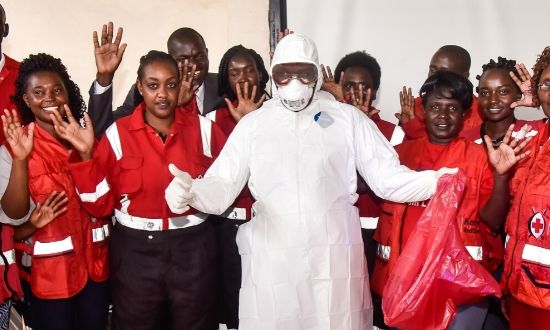 Kenya Red Cross paramedics and volunteers at the Nakuru County Level 5 Hospital during a training exercise on the proper use of Personal Protective Equipment (PPEs) in light of the Covid-19 pandemic on Sunday, March 15, 2020.
Kenyans rallied together in a show of solidarity on Wednesday, April 22 as they took time off their busy days to honour medical workers on the front-line in the country's battle against Covid-19.
People from all walks of life in the country's 47 counties joined in the 'Saa Sita' campaign, applauding health workers at noon in appreciation of their work.
The practice mirrored that witnessed in the United Kingdom where citizens have been clapping for the country's National Health Service (NHS).
In Kenya, individuals and organisations took part with many later sharing videos of how they showed their appreciation for the country's healthcare workers.
Media houses were not left out as broadcasts at 12 p.m. featured journalists and Kenyans in various counties clapping for the health workers.
Several corporate organisations also joined in, sharing videos of their staff members in applauding the medics from their offices.
Many Kenyans also joined in on social media using the #Saa6 trend, sharing various messages in support of healthcare professionals.
It is the latest show of appreciation for medical workers and comes a day after one of two Kenya Defence Forces (KDF) choppers flew a banner across Nairobi bearing the message 'God bless medics'.
The other chopper flew a banner with the words 'Stay Home', urging people to minimise movement to curb the spread of Covid-19.
The Saa Sita campaign was initiated by the Kenya Editors' Guild in collaboration with the Kenya Medical Association (KMA).
The campaign has, however, also raised some eyebrows as a section of Kenyans called for medical workers to be appreciated by improving their working conditions and remuneration packages.
"The only way to cheer them up is to add something into their bank accounts," wrote one Ngengi Magana, for instance.
Reacting to the gestures, Kenyan physician Stellah Wairimu Bosire recommended ways through which the government could convey their gratitude to doctors.
"Amazing gestures this is but I wish the resources used could; employ the unemployed healthcare workers, Buy Personal Protective Equipment (PPEs) which are still lacking despite the donations and to support the vulnerable among us- feed them, offer rent subsidies etc," she suggested.
Watch some of the Saa Sita videos below: