How Police Impostors are Using Videos to Scam Kenyans [VIDEO]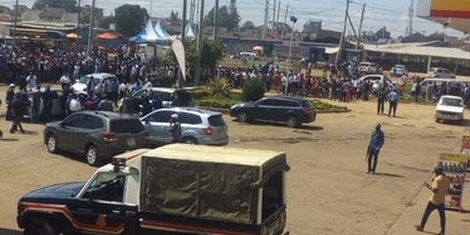 Senior Superintendent of Police Isaac Thuranira Muriuki has lifted the lid on a trick police imposters are using to scam Kenyans.
According to a video that surfaced online on Thursday, July 23, the senior police officer disclosed that seven suspects had been taken into custody after lengthy investigations into their activities.
In the new scheme, the imposters often rush to the police station claiming to have been robbed in order to obtain a police abstract form.
When they leave the station, they scan around for unsuspecting victimes who they accuse of having robbed them.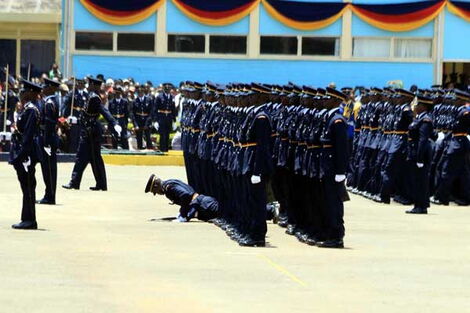 Officers at a passout parade at Kiganjo Training College in Nyeri on March 3, 2017.
"A person will come to make a report that his phone has been stolen which is not the truth. They were targeting the OB number. They will leave and will present themselves to Kenyans as police officers.
"Most shocking was the fact that they had an instrument that looked like a police radio phone and have stolen from many people," stated Muriuki
He further noted that the thugs had devised a new trick in which they record a video and share it to their victims demanding a ransom.
"They often put their victims in the boot of their cars and they first steel all your possessions.
"After that, they will record a video, some of which we have. The video will be shared to your family members and demand at least Ksh 100,000 and after you settle the amount, you will be set free," he added.
He further noted that the thugs had been nabbed with numerous vehicles they were accused of using to carry out the robberies.
The seven are facing charges connected to robbery with violence as police request their victims to come forward and help build a case against them.
"The only thing to identify on a police officer is a uniform. Don't allow anyone to claim they are police officers without producing a certificate of appointment," he explained.
He also revealed that the new scheme had been in operation for over a month.
Since the Covid-19 pandemic hit the country, a wave of violence has been on the rise fanned by the ever-expanding unemployment bracket due to the economic downturn.
Below is the video of the senior police officer:
Related