How To Reach IG Mutyambai Directly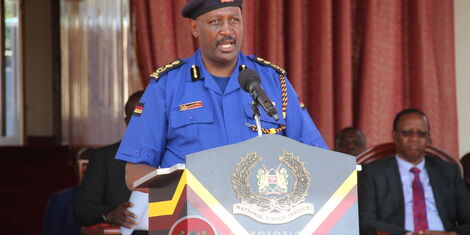 Inspector-General of Police Hillary Mutyambai, on Sunday, June 21, announced that he would be available between 11 a.m. and 12 noon every two weeks on Mondays to speak directly to Kenyans via Twitter using #EngageTheIG.
Taking to his official social media pages, the police boss revealed that he had decided to employ his new plan in response to a public outcry from the citizens lamenting over various issues touching on the National Police Service (NPS).
"There has been a clamor by the public to have a closer and keener engagement with the National Police Service (NPS). I have taken note of that and will be dedicating an hour every alternate Monday to engage with you personally on a live Twitter chat #EngageTheIG.
"Whereas NPS has existing formal and viable structures of engagement with the public, this session will bolster the efforts of those structures. During these sessions, we will be sharing thoughts on improving our services to the public," he detailed.
Police Brutality in Kenya: Spokesperson Charles Owino Responds Below:
In addition, the IG urged Kenyans to also use the hour to bring forth any issues touching on his officers, vowing to attend to matters of urgency immediately.
"I will be open to suggestions from you and will also be taking note of issues that may need urgent attention from my office and from the public. Let's engage for a more effective, efficient, and responsive service," he stated.
Despite pointing out that his first session was slated for Monday, June 22, hundreds of Kenyans immediately responded to his announcement, many sharing horrific videos of police brutality.
"First look into issues wherein most police stations most complainants buy the files and the books (stationeries) for recording statements and the police who is writing the statement must be given like Ksh500," a user, Timothy Osongo, posted.
This was the general theme of the responses, with some lauding the IG for trying to reach out to citizens directly.
According to Human Rights Watch, at least six people died from police violence during the first 10 days of Kenya's dusk-to-dawn curfew, imposed on March 27, to contain the spread of Covid-19
On March 31, at around midnight in Nairobi's Eastlands area, the death of 13-year-old Yassin Hussein Moyo when a stray bullet went through his stomach sparked a public uproar.
His father, Hussein Moyo, told the press that his son was standing on the third-floor balcony at midnight alongside his siblings when the bullet struck him.
There have been countless similar instances that have led to revolts and demonstrations against the violence meted out by members of the NPS.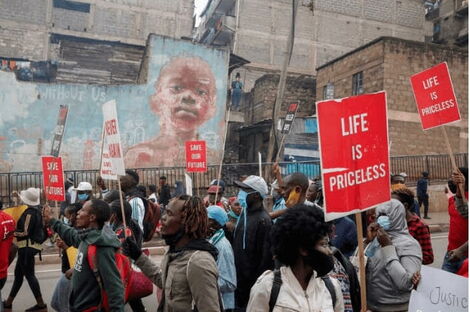 Kenyans march in Nairobi on June 8, 2020, to protest against police brutality during the coronavirus
Related