How Uhuru's 20,000 Acres Spread Across Kenya – WikiLeaks Exposé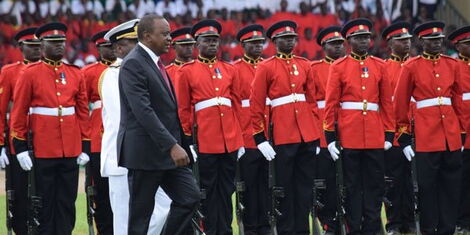 WikiLeaks, an international organization that publishes leaks and classified media from anonymous sources, on Sunday, June 14, sent shock-waves across the world with a trove on information on countries around the world including the United States, South Korea and Kenya.
Other than detailed reports on the 2007 Post-Election Violence (PEV) and classified information around it, the leaks also included a report titled Who Owns The Land: Blood and Soil Issues in the Rift Valley.
The report traced issues of land ownership which have caused numerous conflicts in Kenya over the years, looking into how founding President Mzee Jomo Kenyatta led a small ruling class in acquiring large tracts of land at the expense of landless Kenyans. It also outlined how Presidents Moi and Kibaki, also allegedly subsequently grabbed large land parcels across the country,
According to the report, land holdings in the name of President Uhuru Kenyatta, Jomo's son, total over 20,000 acres with farms in various parts of the country.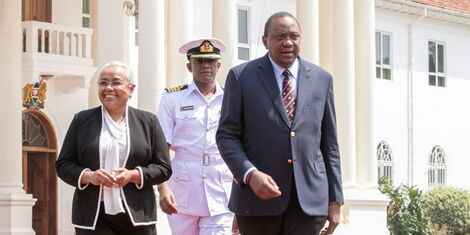 President Uhuru Kenyatta and First Lady Margaret Kenyatta at State House for the 91st Annual St John Inspection Parade at State House in 2019
PSCU
It claims that Uhuru owns a 5,000-acre farm in Eldoret, Uasin Gishu County, 3,000 acres in Rongai, Nakuru County, 12,000 acres in Naivasha, Nakuru County, 100 acres in Karen, Nairobi County and 100 acres in Dagoretti, Nairobi County.
State House Spokesperson Kanze Dena was yet to respond to queries made by Tmz.co.ke by the time of publication as we sought to ascertain the information's veracity.
Citing estimates by independent surveyors and Ministry of Lands officials, the report alleged that the extended Kenyatta family alone owns 500,000 acres of land across the country, about the size of the former Nyanza province.
It alleged that during his time in office, Mzee Kenyatta used a land transfer scheme funded by the World Bank and the British Government to transfer large tracts of land to himself, and allocated many to his family.
"Among the best-known parcels owned by Kenyatta's family, for instance, are the 24, 000 acres in Taveta sub-district adjacent to the 74, 000 acres owned by former MP Basil Criticos.
"Others are 50, 000 acres in Taita that is currently under Mrs Beth Mugo, an Assistant minister of Education (2006-2007) and niece of Kenyatta; 29, 000 acres in Kahawa Sukari along the Nairobi-Thika Highway, the 10,000-acre Gichea Farm in Gatundu, 5,000 acres in Thika, 9,000 acres in Kasarani and the 5,000-acre Muthaita Farm.
"These are beside others such as Brookside Farm, Green Lee Estate, Njagu Farm in Juja, a quarry in Dandora in Nairobi and a 10,000-acre ranch in Naivasha. There are another 200 acres in Mombasa and 250 acres in Malindi.
"Other pieces of land owned by the Kenyatta family include the 52,000-acre farm in Nakuru and a 20,000-acre one, also known as Gichea Farm, in Bahati under Kenyatta's daughter, Margaret. Besides, Mama Ngina Kenyatta, widow of the former President, owns another 10,000 acres in Rumuruti while a close relative of the Kenyatta family, a Mrs Kamau, has 40,000 acres in Endebes in the Rift Valley Province," the report reads in part.
It noted how Jomo Kenyatta faced opposition on the land issue from leaders including former Vice President Jaramogi Oginga Odinga, firebrand Nandi leader Jean Marie Seroney and then Coast leader Ronald Ngala.
It also revealed how other government officials including then Provincial Commissioners, Cabinet Members and MPs grabbed land across the country.
Among farms former President Kibaki is alleged to have grabbed is a 1,200-acre Gingalily Farm along the Nakuru-Solai road.
It also alleges that during his stint as Finance Minister, he transferred 10,000 acres from then Agriculture minister Bruce Mckenzie to himself through the government scheme.
It further claimed that Kibaki owns another 10,000 acres at Igwamiti in Laikipia,10,000 acres in Rumuruti in Naivasha and the 1,600-acre Ruare Ranch.
Moi is accused of grabbing various farms including the 20,000-acre farm in Kabarak, a 20,000-acre farm in Olenguruone, 20,000 acres in Molo, 3,000 acres in Bahati and 400 acres in Nakuru.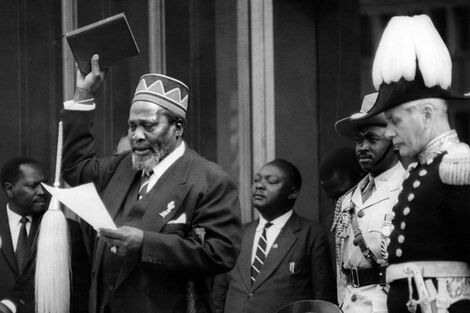 Mzee Jomo Kenyatta takes the oath of office during his swearing-in as Kenya's first Prime Minister on June 1, 1963 .jpg
Related