I Left It to God – DJ Evolve on Forgiving MP Babu Owino [VIDEO]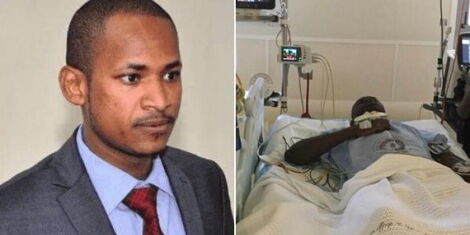 Felix Orinda, popular known as DJ Evolve on Monday, June 29, sort to clear the air over reports that he forgave Embakasi East Member of Parliament Babu Owino for allegedly shooting him in the neck.
When asked by NTV Reporter to respond to the allegation, DJ Evolve simply said, "I left that to God and I'm waiting for the justice system to see what will go through. Aside from that, I have nothing else to say about it."
The shooting incident took place at a Nairobi club on January 17, 2020.
The entertainer who was released from hospital on Thursday, June 18, six months after the incident occurred, detailed that he had pinned his hopes on the Judiciary and was waiting for justice to be served. DJ Evolve is bedridden as his body, from mid-torso down, is still numb.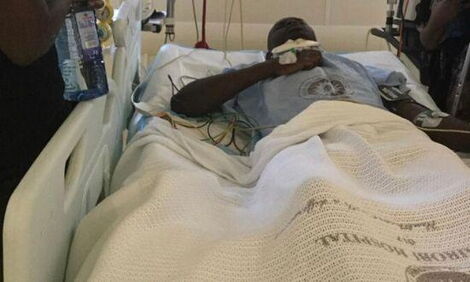 Felix Ondari alias DJ Evolve at the Nairobi Hospital where he has been receiving treatment.
Orinda added that he was recuperating well and was able to move his hands. He, however, doubted whether he would be able to resume work as most of his body parts were still affected.
"Generally, I am doing better as opposed to when it first happened. I was really traumatised at the beginning but I learnt to live with it. At least nowadays I can be able to sleep unlike before where I couldn't sleep at all. I kept having flashbacks of that fateful day and I needed medication to put me to sleep.
"I'm slightly able to move my limbs (hands) and that is the much I can do. I can't be able to move my arms. I haven't progressed as these were my tools of the trade. There's no way I can be able to work when I don't have them. I currently depend on people to do things with me," he painfully narrated while struggling to speak owing to a tube injected in his neck.
His mother added that she had never seen nor met Babu Owino who undertook the responsibility of clearing her son's medical bills.DJ Evolve's mother reiterated that she was also waiting for the court's verdict on the matter.
"Staki kuongea story ya uyu (DJ Evolve), venye nilipata ripoti ya kijana wangu ati amepata accident mahali pa kazi. Nilikua shocked nikaona kama kila kitu imeturn upside down nilirudi kwa Mungu wangu nikamuambia uniokolee mtoto wangu. (I don't want to speak about my son's condition. I was shocked upon learning of the accident at his place of work and all I could do was to turn to God).
"Tangu 17 Januari kila kitu ilisimama (Everything stopped ever since that fateful day) I am concentrating on seeing my boy heal. I hope to get justice for my son in court. Sjawai muona Babu na sjawai ongea na yeye. Ile machungu ninayo swezi ongea hua naongea tu na Mungu wangu. Naona maisha ya mtoto wangu imeharibiwa. (I have neither met nor spoken with the MP. I cannot speak more on the issue out of the pain I feel. All I see is that my son's life has been destroyed)," the mother lamented.
Embakasi East MP Babu Owino was released on a cash bail of Ksh10 million on January 27. On Wednesday, March 4, Babu stated that he had chosen to forgive himself for shooting DJ Evolve.
"It is a matter that is between me and God and I chose to forgive myself, we cannot change the past but we can change the future, let us focus on what is coming in the foreseeable future.
"Let us not dwell so much in our past cause we can't change it, no matter how we would want to," Babu stated.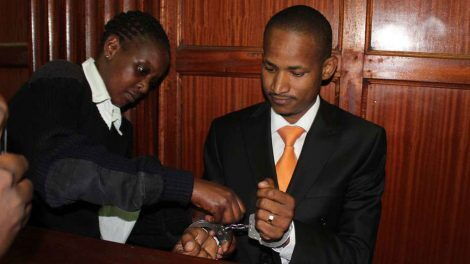 Embakasi East MP Babu Owino when he appeared before Milimani Law Court on January 20, 2020
Related