Ian Wafula: From Surviving Road Crash to Being Rejected 4 Times by BBC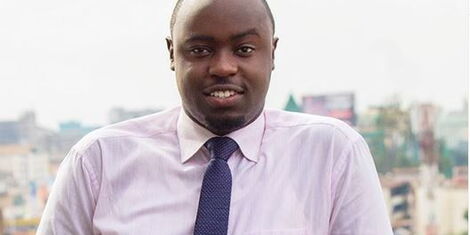 "Live as if you were to die tomorrow. Learn as if you were to live forever" – Mahatma Gandhi
In journalism like many other professions, you will get to experience victories and failures. These experiences build you and ready you for future obstacles.
For BBC Broadcast journalist Ian Wafula (28) it has been a journey of learning, unlearning and relearning as the media landscape shifts and mutates with every second.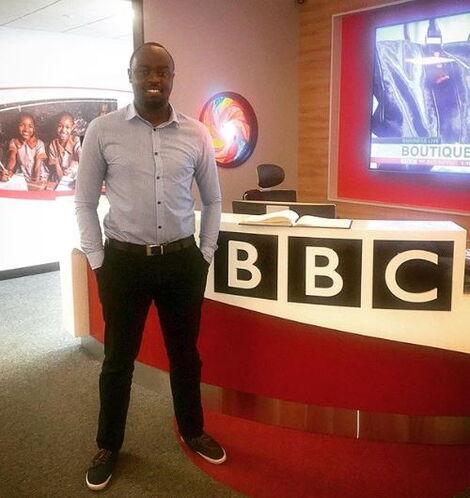 Journalist Ian Wafula at the BBC East Africa Bureau in Nairobi on August 1, 2018.
The young anchor spoke to Kenyans.co.ke, where he shared his story about his journey in media and the lessons he's learnt along the way
As a fact-finder what is the most bizarre story you've had to debunk or set the record straight?
There a couple of stories. Most recently, during this Covid-19 crisis. There were reports predominantly in the Coast that people were taking strong black tea to prevent themselves from catching coronavirus.  We had to debunk that.
The most bizarre one was the Jakadala story and people in Nyanza were saying they were not having sex anymore because of the STI that was killing people in less than five days. It was circulating because a picture had been taken of a man in a hospital bed and his genitals were swollen. I tracked the man down in Kisumu and found that actually he had penile cancer.
Any backlash after a fact-check…
No, hopefully. When you fight people with the truth I don't think they can have anything else to say because if you have the facts, no one can get back at you. The tricky bit involves making sure you are always right. When you get the facts wrong you risk ruining your reputation and your credibility even as a journalist.
What was your journey as a journalist like
I started as an intern at KTN in 2013. My editors started taking me seriously when covering the Westgate attack after I did my first live report. And I began being compelled to do security and investigate stories and I got to work with John Allan Namu and Mohamed Ali.
My best feature was Terror Foretold which exposed that security personnel had intel prior to the Garissa Attack happening. They didn't act on it. After my piece aired the Interior CS Joseph Nkaissery at the time fired the entire the security team. Yvonne Okwara started to coach me and I started doing the 1 p.m. Bulletin and also investigative reporting.
I joined k24 TV in 2015 where I hosted the morning show for two years. It helped me get out of my comfort zone as I found myself doing entertainment interviews. I joined BBC in 2018, where I was absorbed into the fact-checking show.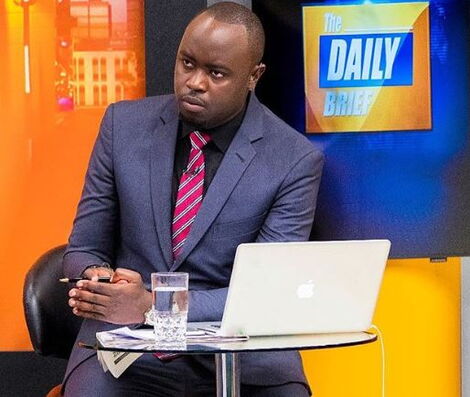 Ian Wafula Hosting the Daily Brief at K24 on April 12, 2018.
You were once in an accident while on assignment for KTN
In 2014, we got an accident on our way to Ramu in Mandera together with Hussein Mohammed. We were in a pick-up and there were no roads over there, just sand. We were driving at 60Km/hr the pick-up just overturned. But we all came out unscratched. My boss suggested we come back to the office but we opted to finish the mission instead. Red Cross helped us and they took us to Mandera to cover the conflict.
Which Station has been the best to work at…
KTN has a special place for me because that where they saw the potential in me and I got to work with some of the biggest names in the industry.
BBC was a deal-breaker because you just don't cover stories only from your country but you have to look at issues from a global and continental perspective. I've learned more at the BBC than anywhere else.
You were rejected four times to work for the BBC…
I applied for a reporter job at the BBC, I was rejected. Then there was a career fair that would easily expose you to potential employment at the BBC, I applied and didn't get that. Then I applied for the Discussions Program I didn't get as well. I think I got around four rejections before I finally got picked for the fact-finder program.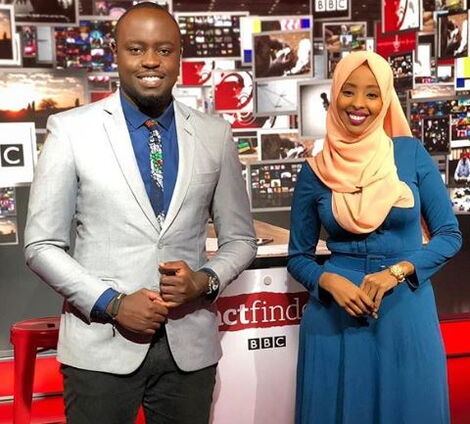 Ian Wafula (left) presenting with Fathiya Mohamed Nur for BBC Fact Finder May 9, 2019.
INSTAGRAM
With the situation for many media houses right now with the downsizing and slashed salaries… How should the industry adapt in these times?
It's not just the media that has been affected and we are in uncertain times where we don't know when things will go back to normal. The best media houses can do is support the employees beyond the financial aspect to make sure they are safe while working from home. Try to make them as comfortable as possible to still perform their duties.
What to project the media landscape will look like in the next five to ten years
Covid-19 has given companies enlightenment on how to conduct business. As a journalist, I have my own kit where I can report anywhere with a phone that can record good video, a phone stand, laptop, and microphone. So I can do everything without having to go to the studio.
Employers need to be open-minded and as long as the work is delivered there's no need for a 9-5 kind of situation. Social media has proved to be a crucial aspect as well, just ways to make it interesting to consume news especially if you want to attract younger people.
You founded an organisation that tackles social issues on the internet…
I founded Heal The Web as a social side of what I do at work to address social issues online, cyberbullying, revenge porn, trolling, hate speech. We also educate people on fact-checking.
Advice to your younger self
To be more patient and trust in the process, because you'll find people in the media industry will want to jump on every opportunity.  Sometimes I wonder if I'd have grown more if I was at KTN but then I can't know for sure. And also
Sometimes what you want you may never get but later on you'll understand why. Trust in the process.
Final Word…
It is a difficult time for everyone and now more than ever we need to be there for each other as we are in uncertain times. For those who are uncertain about the future should know that all this shall pass.
Related