Inferno Engulfs Kisumu Shop After Laying Off Workers [VIDEO]
An inferno razed down a popular hardware shop in Kisumu on Monday, July 27, leading to a loss of property worth millions.
The fire started in mid-morning hours at the Modern Electrical and Hardware with firefighters responding but struggled to put out the huge inferno that had engulfed the premises.
Speaking to TMZ.co.ke, a distraught Modern Electrical attendant confirmed that there were no injuries reported in the fire.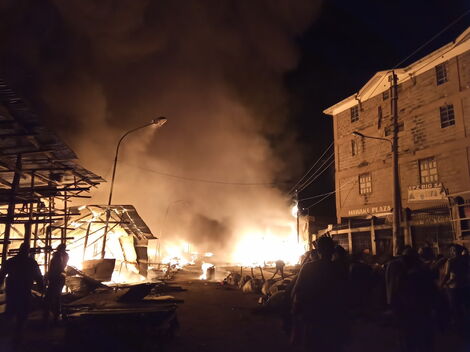 A section of Gikomba Market on fire. June 25, 2020.
"We cannot give much details, you just imagine what we are going through. It is sad to talk about it, we are currently trying to salvage some of the property.
"Everything has been burned down, luckily there were no injuries in the fire, everybody is fine," noted the shop attendant.
A reporter from Kisumu claimed that workers were laid off in June by the company and shared details about the fire.
"The fire started in the morning and we were alerted by people running to the premises. Firefighters took some time before responding. But they have tried to contain it.
"Back in June, three workers were laid off due to unstable business. Investigations are still going on to establish the true cause of the fire," he noted.
Kisumu County and the airport fire brigades took about two hours to contain the fire that affected Kadianga Electrical Shop and Presitge Sacco offices.
Police were forced to lob teargas to disperse residents who were dissatisfied by the firefighter's efforts to put out the inferno.
Nyanza Regional Commissioner James Kianda revealed that preliminary investigations indicate that the fire was caused by an electrical fault.
Watch Video Below:
Related