Inside Children's Book Club Ran by Activist Wanjiru Wanjira [VIDEO]
Juliet Wanjira became known to many Kenyans during the Saba Saba protests in Nairobi on July 7 when she resisted arrest in Nairobi.
A fearless Wanjira refused to co-operate with the officers and demanded to know why she was being arrested, telling one officer to his face that they were killing them in their communities as she protested against extra-judicial killings.
A video of her chanting "When we lose our fear, they lose their power," to an awed crowd was shared around the world.
When not taking on the establishment in the streets, however, Wanjira continues with her work as a social justice activist and is the Founder of the Matigari Book Club.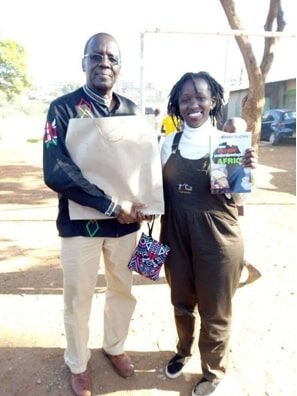 Activist Juliet Wanjira (Right) pitured receiving a donation of books from former Chief Justice Willy Mutunga
Hosted at the Mathare Social Justice Centre, the book club primarily draws its membership from children in Mathare.
It is named after the 1986 book Matigari by renowned author Ngugi wa Thiong'o, which is set at the dawn of post-independence Kenya and follows a freedom fighter who has only emerged from the forests.
Wanjira's is not your usual book club, as it inculcates Pan-African values in children and teaches them of the continent's history beyond what is covered in school history text-books.
"Matigari is a Pan-African-centred program. We teach our kids that we are, first of all, Africans, and are struggling for the same things across the continent.
"It is a grassroots community project aimed at fostering youths, mainly pre-teens and teens to gain values and gain confidence as dignified African citizens. The book club has a weekly class that integrates history and social matters in to a learning experience within a two-hour session," the center noted in one statement.
The youth educational program also includes site visits to help learners understand various topics. For instance, the group once visited the grave of Pio Gama Pinto, an independence era politician who advocated for equitable land distribution and an end to corruption before he was killed. Children in the group also joined protesters on the streets in the Saba Saba protests of 2019.
The program also uses multimedia including documentary sessions to make learning more exciting. On Saturday, July 25, for instance, the children learned about Tanzania's founding President Mzee Julius Nyerere.
Wanjira's book club has received wide-ranging support from Kenyans including former Chief Justice Willy Mutunga who donated several books during the club's inception.
Watch a video from one of the club's sessions below:
Related