Inside Uhuru, Ruto Secret Plot to Betray Raila – Duale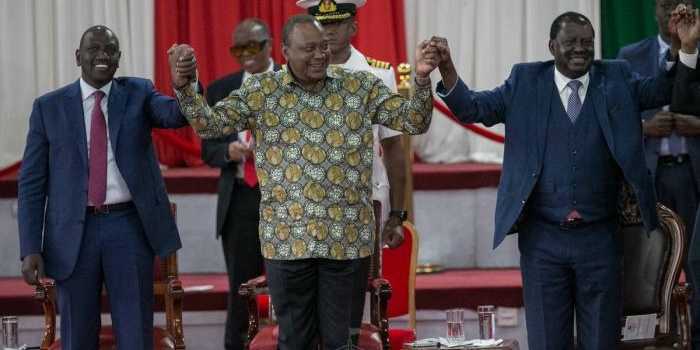 From left: Deputy President William Ruto, President Uhuru Kenyatta and Orange Democratic Movement leader Raila Odinga at the Bomas of Kenya on Wednesday, November 27, 2019, during the launch of the Building Bridges Initiative.
National Assembly Majority Leader Aden Duale weighed in on the war between President Uhuru Kenyatta and his deputy William Ruto, which borders along with Kenyatta's friendship with Odinga.
Duale warned Odinga to be ready for another betrayal of his life, arguing that Kenyatta and Ruto had a secret card against him.
The Garissa Town MP was responding to reports that Kenyatta had the power to break Jubilee and form a coalition with Odinga.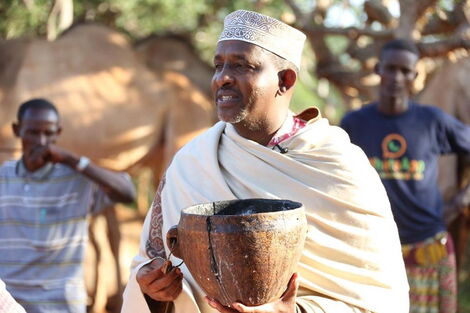 National Assembly Majority Leader Aden Duale at his camel farm in Libahlow, Balambala Constituency, Garissa County on December 22, 2019.
"You think you have fixed William Ruto, you will be shocked. 'Baba' will be shocked. There is a secret card between Uhuru and Ruto," Duale warned.
On the merger between Kenyatta and Odinga, Duale argued that it would take more than the reported veto powers Kenyatta has, to pull such a card on Ruto.
"Mark my words, Jubilee will be one. Uhuru Kenyatta will back William Ruto. All these stories, my friend, for you to go to a merger, you must call a National Delegates Conference (NDC) after National Executive Council (NEC) and National Governing Council (NEC) which is yet to happen.
"The constitution does not allow the formation of a Government of National Unity. The only time we had a GNU was when we had the National Accord in 2008," Duale proclaimed.
However, ODM Chairman John Mbadi poured water over Duale's claims, refuting the fact that Duale represented Kenyatta's interests.
"There is nothing secret about politics. Politics is about what agenda will sell. In fact, those who have secret cards don't reveal them. The moment you say you have a secret card, it ceases to be secret. 2022 is still far and we have enough time for campaigns and coalitions," Mbadi trolled.
"President Kenyatta is busy doing legacy projects and cash transfers for the elderly. As to secret cards and dynamic talk, let's wait for 2022," Murang'a Senator Irungu Kang'ata added.
On Monday, April 20, Jubilee Nominated MP David ole Sankok offered a solution to Kenyatta and Ruto, stating that the duo should meet with their party members to deliberate the simmering war and rivalry in the party.
"My party leader and my deputy leader we really need to meet as a Parliamentary group meeting of Jubilee. A delegates conference meeting is needed for the party, we have not had it for 3 years,
"We love our party leaders and we need to hear their voices. We need them to tell us whether we are off the track or not," he pleaded while speaking with TMZ.co.ke.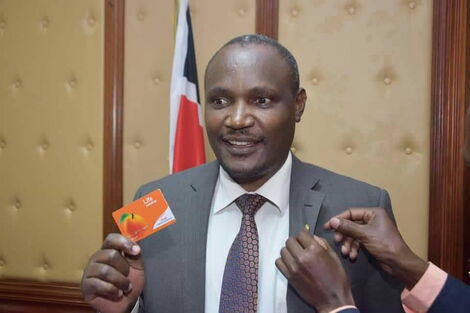 National Assembly Minority Leader John Mbadi holding up an ODM party membership card in 2019