Is Otile Brown Vying Against Babu Owino in 2022? Manager Speaks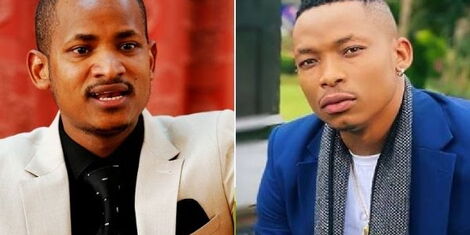 FACEBOOK
On Saturday, September 5, Embakasi East MP Babu Owino claimed that renowned musician Jacob Obunga, known to many as Otile Brown, was eyeing his seat, come 2022.
Through his social media pages, the triggered legislator alleged that the musician was a 'slay queen' who would not do well in politics.
"Can this joker stick to singing. Politics will only make him lose his voice. Besides, beautiful women are in need of his voice," Babu stated.
Embakasi East MP Babu Owino addressing a crowd during a past event.
FACEBOOK
TMZ.co.ke spoke to Brown's manager, Noriega Donself, who clarified that the poster was fake and Otile had not pronounced any political ambitions.
"I don't think we have any ambitions at the moment to run for any seat," Donself stated.
Following the lawmaker's sentiments, one of his followers asked him to concentrate on important issues that were affecting Kenyans like the BOM teachers' payments.
In response, Owino wrote a post directed to the Ministry of Education asking them to treat the matter with urgency.
"Board of Management Teachers haven't been paid and are really suffering/languishing in abject poverty. Prof. George Magoha should treat this as very urgent and important," Owino stated.
Owino started his political career in 2011, when he was elected as the chairperson of the Student Organisation of Nairobi University (SONU).
He was the longest-serving student leader in Kenya, having served for four terms in the university, something that earned him massive criticism from the public.
He enrolled at the University of Nairobi in 2008 for a degree in actuarial science and graduated in 2012 with first-class honours. Immediately after, Babu enrolled for another degree in law.
On August 31, 2017, Owino was elected as the MP for Embakasi East Constituency.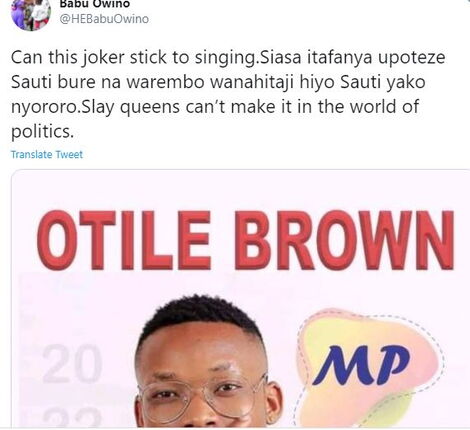 A screenshot of Babu Owino's
Related