Isaac Ruto at Loggerheads With DP William Ruto Over Talai Ritual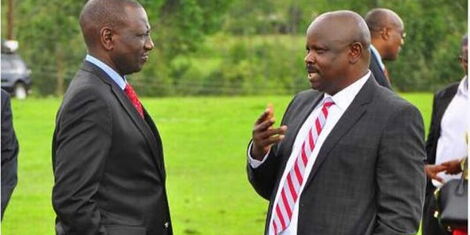 Chama Cha Mishanani Party Leader Isaac Ruto has scornfully termed Deputy President William Ruto's coronation by Talai Elders as a non-consequential event.
The former Bomet Governor spoke on an interview with Citizen TV on Wednesday night, June 17 just moments after signing a post-election coalition deal with the ruling Jubilee Party.
Isaac argued that the Talai Elders represented a sub-tribe within the Kalenjin community and not the entire Rift Valley, adding that it was an outdated tradition.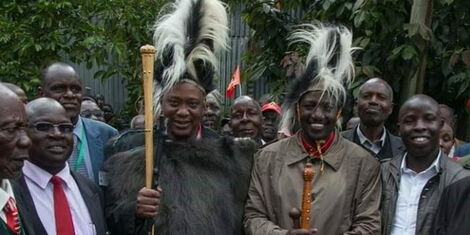 President Uhuru Kenyatta and his deputy William Ruto meeting with Talai clan elders in Nandi County in 2017.
"We have no structures of elders called Talai within the entire Kalenjin community. The group you are referring to is in Nandi County and the Kalenjin Community have various sub-tribes and dialects. I am not an expert in Nandi cultural coronations
"If indeed it exists, then it was always a tradition of the yesteryears," Isaac Ruto stated.
Isaac, DP Ruto's nemesis, further distanced himself from the Elders and played cagey on whether the coronation had elevated the DP's political status.
"I have no reason to agree or disagree with Talai Elders. They have the freedom to choose whom to support. What I know is that coronations are not binding to anyone. It is within their democratic right to chose who they want to support for 2022, 2027 and 2032.
"I also have no reason to comment on the 2022 elections. Ruto has a right to contest for presidency similar to everyone else," Isaac detailed.
On Wednesday, June 17, Isaac Ruto's CCM and Leader Kalonzo Musyoka's Wiper signed a post-deal election deal with President Uhuru Kenyatta's Jubilee Party. The two parties joined hands with Jubilee, raising doubts on the future of the National Super Alliance (NASA).
The union of Raila, Uhuru, Kalozo and Ruto seemingly adds more pressure to DP Ruto who has been isolated from the government with the latest move seeing Kenyatta cut short his powers in the Executive Order No 1 of 2020.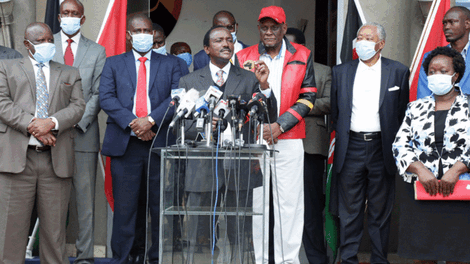 Wiper leader Kalonzo Musyoka addresses the press after signing a post-election coalition with Jubilee at Jubilee House in Nairobi. June 17, 2020
Related