Jalang'o Lands Radio Job Days After Exiting Milele FM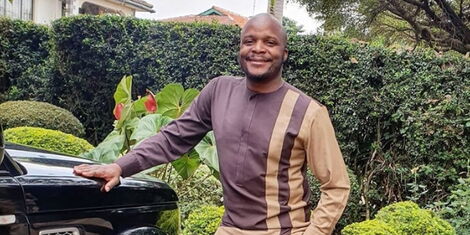 Endeared comedian and radio presenter Felix Odiwour (Jalang'o) is set to make a comeback to the airwaves just days after quitting Milele FM.
Jalang'o announced on Friday, June 26 that he will soon reunite with Radio Africa, that owns Radio Jambo, NRG Radio, Kiss FM and Classic 105. 
"I might end up on Waiyaki Way. I had an amazing meeting with Patrick Quarcoo (Radio Africa CEO) who is my friend, boss, the first person who ever gave me a contract.
"Put aside NRG Radio, I think I may end up with where it all began. Which radio, Kiss, Classic or Jambo? I don't know," Jalang'o kept his fans guessing in a live broadcast on his YouTube channel Bonga na Jalas on Friday, June 26.
Jalang'o also acknowledged the fact that it's at Radio Africa Group where he nurtured his radio presentation skills under the tutelage of media personality Caroline Mutoko.
Mutoko and Jalang'o used to co-host a morning breakfast show at Kiss FM (then Kiss 100) Before the later left to join Standard's Radio Maisha.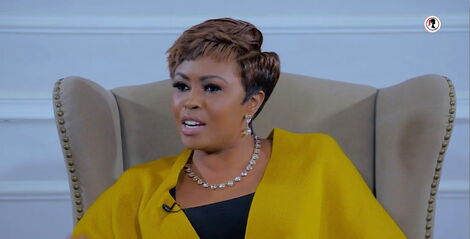 Caroline Mutoko addresses guests on her show on February 4, 2020.
The self-proclaimed Heavy J Baba also disclosed how his former Milele FM co-host Alex Mwakideu reacted upon learning that they won't be partnering again at the Mediamax Network Limited.
"Before I quit Milele FM, I tried calling Mwakideu on the previous night but I couldn't find him. At 6 a.m. on the following day, he called back and asked why I had not reported to work and I told him that I won't be hosting alongside him again.
"I had differed with the management on my contract offer after Covid-19 affected media business. Mwakideu asked me to sign it but I couldn't. I will miss him but he will make it. He is one of the best radio presenters ever," Jalang'o disclosed.
The two had also hosted a morning breakfast show together at Radio Maisha before reuniting at Milele FM. Jalang'o joined Milele FM after briefly working at Royal Media Services' Hot 96 alongside award-winning anchor Jeff Koinange. Jalang'o stated that he wished to partner with Koinange once more.
"I wish to host alongside Jeff once more. However, I respect what comedian Professor Hamo has built while working with Jeff. I quit Hot 96 not because of money but out of the desire to work with Mwakideu again at Milele FM.
"We built the best English program at Hot 96 with Jeff, however, I prefer working at nationwide radio stations where I can reach out to fans from all across the country. Hot 96, Kiss FM are big stations too but focus on cities like Kisumu, Nairobi and Mombasa," Jalang'o stated.
With Classic 105 and NRG Radio part of the cities context, Jalang'o seemingly announced that he may work at Radio Jambo. He also revealed that he rejected an offer to work at KBC Radio Taifa.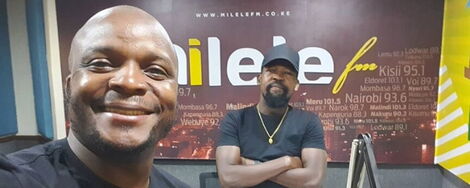 Former Milele FM presenter Jalang'o with Alex Mwakideu at Mediamax studios on May 13, 2020
Video: YouTube/Jalang'o
Related