Jeff Koinange, Boys Club Write to Late Bob Collymore [VIDEO]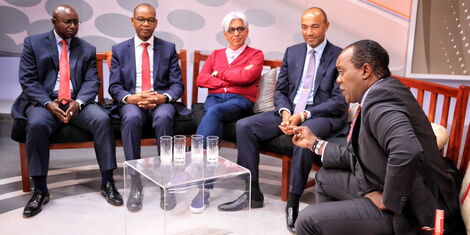 Citizen TV news anchor Jeff Koinange on Tuesday, July 7 read an emotional letter written by friends of the late Bob Collymore to update him on various happenings a year since he succumbed to Cancer.
The letter was an idea by the boys club; Collymore's close circle of friends that includes Koinange, Joshua Oigara (KCB CEO), Bharat Thakrar (Scangroup CEO), Patrick Quarcoo (Radio Africa CEO), Peter Kenneth (politician and banker) and investment banker Aly Khan Satchu.
In the letter which Jeff was asked to voice, they updated him on the state of the world and let him know how the global Covid-19 pandemic had disrupted entire economies.
"Oh, while you were away, something unimaginable happened. The world stopped. There was a virus that came out of China, they called it Covid or Corona. It put everything on hold, flights ground to a halt, mad traffic on the highways disappeared," Koinange explained in the letter.
They further updated Collymore on how his wife, Wambui, was doing and things that were going on in the lives of each member of the boys club.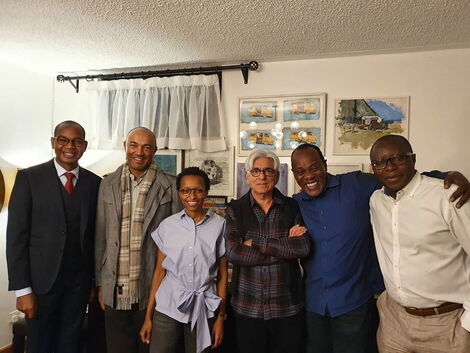 (From left) Joshua Oigara, Peter Kenneth, Wambui Kamiru Collymore, Bharat Thakrar, Jeff Koinange and Patrick Quarcoo pictured on Tuesday, June 30, 2020
"Wambui and the kids are doing great, missing you more than ever, and the boys too are doing well although PQ's wife left us just a few weeks ago, and should be somewhere where you are. If you run into her, welcome her and tell her to keep resting in peace," part of the letter noted.
Unlike in past episodes of his web series, A Chapter A Day, Jeff delved into a story not told in his book Through My African Eyes as he explained his relationship with Bob and how the famous boys club came to be.
Jeff recalled how Collymore's demise left him shaken despite the late CEO having tried to prepare them for it when he told them in 2019 he had less than a month to live and assigned them roles to play in his send-off.
Jeff wondered aloud how the pandemic would have affected Collymore's penchant for trips around the world to attend jazz concerts and other events if he were alive.
He told Collymore of the new normal which includes bumping elbows, wearing masks in public areas and maintaining social distance.
"Sports was completely halted. Movement across the globe ceased and the virus spread like wildfire. Right now, as we speak, 10 million people across the planet have tested positive. It's like we're playing scenes from a Hollywood movie," the letter read in part.
He went on to update Collymore on the lives of his friends including Peter Kenneth, Thakrar and Kenya Commercial Bank (KCB) CEO Joshua Oigara. He, however, admitted that the group did not meet as regularly as Bob would have liked.
"BT is still BT, the billionaire with a blue-chip company. PK is busy getting wealthier by the day and purchasing fancier automobiles as a past-time.
"By the way JO didn't get the job you wanted him to get, but he's busy running and managing the biggest bank in the region. PQ is coping and managing as best he can.
"AKS is still under house arrest, but he's doing good. Lamin is still in Lagos, where he continues to thrive. As for the diaspora boys, well, they're doing well too," Jeff continued.
Jeff left some viewers holding back tears when he told Collymore that he misses him, and not a day goes by without thinking about him.
Watch Jeff read the letter below:
Related