Jeff Koinange Cancels Show After Speaker Lusaka Goes Missing [VIDEO]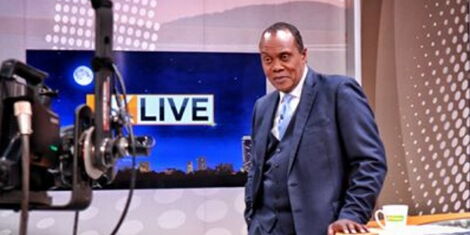 Viewers of the popular JKLive show were on the night of Wednesday, June 24, forced to go to bed early after Jeff Koinange cancelled the show at the last minute.
Throughout the prime time bulletin, the popular anchor disclosed that Citizen TV was still trying to locate Senate Speaker Kenneth Lusaka who was scheduled to appear on the show.
It is believed that Lusaka had switched off his phone and was completely unreachable.
This was despite consenting to participate in the show, with posters of the programme shared across all platforms announcing his guest appearance.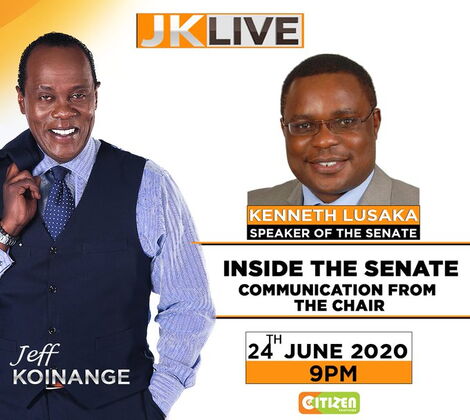 A poster shared by Citizen TV to announcing Ken Lusaka as the show's guest.
"We did get a confirmation from Senate Speaker Ken Lusaka to be on the show tonight, we are still trying to reach him literally as we are speaking because he is the man in the middle of all the political realignments taking part in Jubilee.
"He confirmed earlier today that he would be on the bench, he is still MIA (missing in action). Could somebody please tell him we are waiting," Koinange announced before most commercial breaks.
When he wrapped up the news segment, the anchor bid his viewers goodbye, promising a better show the next week.
"This is the point where we would be saying, we are going to go straight to our interview live with our guest. Unfortunately, our guest is still missing in action. We tried. I do not know what happened," he added.
Lusaka, who has been at the center of Jubilee Party realignments, was expected to discuss his experience on the show after being the final authorisation of Senate leadership changes.
"He is witness & umpire to heated debates & political rancor & lately, the bearer of the news of leadership changes and implementer of the wishes of Parliamentary parties. What is it like to be Speaker of the Senate?" Citizen TV had shared alongside his poster.
Lusaka oversaw the ouster of Kipchuma Murkomen as Majority Leader and Susan Kihika as the Senate Chief Whip who was replaced by Samuel Porghisio and Irungu Kang'ata respectively.
That was the first time JKLive Show, since its debut on Citizen TV in 2017, had failed to air due to lack of a guest.
Related