Jeff Koinange: Reckless Childhood Stunt That Made My Mother Faint [VIDEO]
Childhood is the most beautiful of all life's season and this can be depicted from Jeff Koinange's fondest memories. The Citizen TV anchor recalled how one reckless stunt he performed caused his mother to faint over anger.
Koinange narrated the tale while reading his autobiography Through My African Eyes on Monday, June 23 on his YouTube show dubbed A Chapter a Day.
The incident occurred a few years after his father Frederick Mbiyu Koinange passed on in 1966. His mother, who had been a headmistress was then working with a charity organisation while raising him and his three siblings.
The celebrated journalist detailed that he caused a fire to break out at his parent's home in Kiambaa, Kiambu County and burnt part of their hedge. His mother was so angry with the act that she fainted instead of quarrelling him.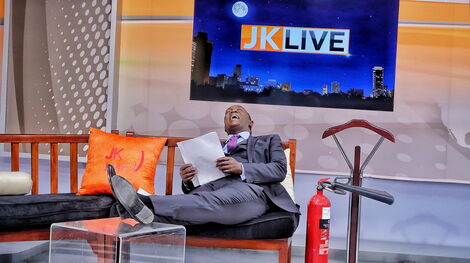 Jeff Koinange enjoys a hearty moment at Citizen TV studios on June 20, 2019.
"On one Christmas, she bought us four bicycles for each of us and warned us not to share with anyone else for they would be damaged. None of the village kids had bicycles. However, we had friends and we ought to share with them. I let one of my friends ride my bicycle and he drove straight into a tree.
"It was totally damaged and I thought I'd find a welder to repair it as I couldn't tell my mother. I decided to repair it myself. There was an old stove in our garage and I decided to heat it up and weld the bicycle," the award-winning anchor recalled.
Unfortunately, he forgot that he had lit the fire next to their bushy fence which ended up being consumed by the fire. Villagers rushed to his aid and put out the fire.
"I was so shocked to numbness. My mother came out of the house when she heard the commotion and I will never forget that moment when she looked at me, the fire, the villagers and fainted. The attention shifted from the fire to her safety.
"I wondered what I had done and knew that I would be severely punished. Several hours later she recovered and she didn't say a word about the incident as much as I tried to apologies. That's the worst kind of punishment as you never know what's in store for you. Every day I woke up with guilt after seeing the damaged hedge. That reminded me that recklessness can lead to havoc," he added while breaking into laughter.
He lauded his mother who knew that she was a single mother and mistakes were part of childhood and they shaped an individual's life and growth.
"She was strict and disciplined us when we misbehaved. She knew that we were all she had and she had to raise us as two parents would. All she could accord us was discipline and education. Sure enough, she sacrificed and enrolled us to the best schools," Koinange fondly recalled.
Video: YouTube/Jeff Koinange
Related