Joe Ageyo Opens Up on Tense DP Ruto Interview [VIDEO]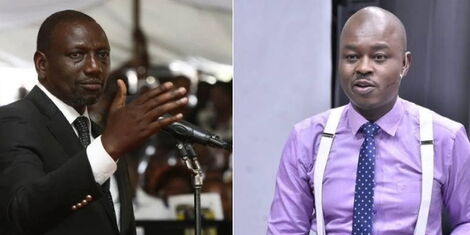 FILE
Citizen TV's Editorial Director Joe Ageyo spoke on the tension surrounding his interview with Deputy President William Ruto on Thursday night, August 27 at Karen, Nairobi.
Responding to a viewer's question on whether it was tense and how he felt interviewing the DP, Ageyo took a long pause before refuting reports suggesting that the interview was heated.
The viewer through a text read by News Gang panelist and fellow Citizen TV journalist Francis Gachuri also asked Ageyo to speak on DP Ruto's body language and demeanor.
"You were called 'my friend' only once," Gachuri joked.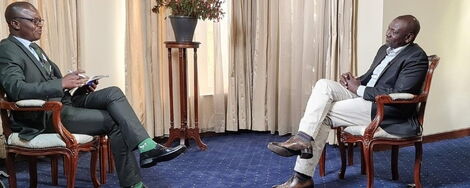 Deputy President William Ruto (right) in an interview with Citizen TV's Joe Ageyo on Citizen TV on Thursday night, August 27, 2020
FILE
Ageyo stated that Ruto was more forthcoming with what he wanted to clarify and avoided diverging the interview into a big argument.
"It was an interview like each one that we do. I think there was something to be said about his body language. Some to be said and some he said without saying and it was very clear.
"He was more candid about many issues and the state of affairs within Jubilee. He was more candid than ever before. I think that was quite different and interesting," Ageyo clarified and explained DP Ruto's verbal and non-verbal cues.
Linus Kaikai weighed in and stated that the DP was the old William Ruto who would take time to answer questions and listen to interviewers. He compared the interview with one which former Citizen TV anchor Hussein Mohamed conducted with the DP.
"If we were to play those clips of your interview and that of Hussein Mohammed, you will find out that during Hussein's time, the DP was enjoying political power. At yours, he was disadvantaged as he has been taking punches," Kaikai explained.
"When politicians lose power, they tend to humble and be down to earth. They are now aware of ordinary life, ordinary folks and issues affecting the common mwananchi," Kaikai stated with Yvonne Okwara adding that Ruto had resorted to engaging the peasants, youth and women and even led prayers at his own congregation.
In the interview with Ageyo on Thursday, August 27, Ruto affirmed that he was isolated from the government and accused Jubilee Vice Chairman David Murathe of hijacking the party and causing divisions. Ruto hinted at quitting the party if he ended up being frustrated.
On Wednesday, September 2, Murkomen in an interview with Citizen TV's Jeff Koinange blamed President Uhuru Kenyatta for DP Ruto's woes.
"We cannot recognise the Uhuru we voted for. He kept making unprovoked promises about serving for 10 years before his deputy does another 10. Today, he has employed the kicking-away-the-ladder concept, where he is using every way to push Ruto out," Murkomen lamented.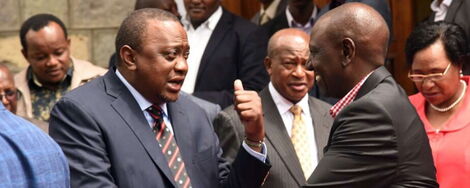 President Uhuru Kenyatta (left) with Deputy President William Ruto (right) at the All Saints Cathedral, Nairobi in 2019
PSCU
Watch Ageyo speak on DP Ruto's interview
Related