John Allan Namu Exposé: How Kenyans Are Consuming Poisonous Foods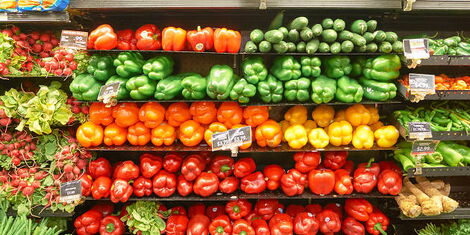 Kenyans should worry over the food they purchase and consume if revelations by Investigative Journalist John-Allan Namu is anything to go by.
In a new expose, the award-winning Journalist has warned that the pesticides sprayed on groceries has been proven to be hazardous to human beings.
The CEO of Africa Uncensored, an investigative and in-depth journalism production house in Nairobi, Kenya lift the lid on the pesticides while joining a petition spearheaded by Uasin Gishu Women Representative Gladys Boss Sholei.
Shollei has urged the government to withdraw dozens of harmful pesticides from the marketing arguing that they contain harmful chemicals which can destroy both human and environment. The petition calls upon Kenyans to rally MPs to support the motion.
"As you shop for groceries today, remember that 33 per cent of the pesticides registered in Kenya arent in European markets because of their impact on human and environmental health. State House has a role in correcting this, so does your MP. My MP is Nixon Korir (Lang'ata, Nairobi)," the former KTN journalist tweeted on Saturday, June 20.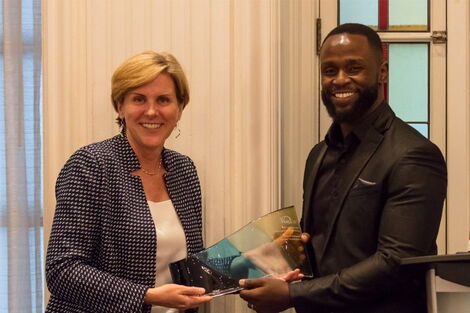 Trace International CEO Alexandra Wrage (left) presents Trace International's 2019 prize for investigative reporting to Africa Uncensored's John Allan Namu on June 29, 2019.
"Who administers dosage? What guidelines are there for use here? Who ensures that they are enforced? The Government extension services are not what they used to be, thus agrochemical companies are filling the void. Is their interest for sale or proper usage?" Allan Namu wondered while raising pertinent questions on production, authorisation and sell of the pesticides.
He asked Kenyans to be cautious of key ingredients a pesticide encompasses. The ingredients are specified by the Pest Control Products Board (PCPB). PCPB states that when it comes to reducing the risks and public health problems posed by pesticides, it is important to understand that the toxicity of different substances for human beings and for the environment varies greatly.
PCPB clarifies the toxic pesticides into four categories, carcinogenic, mutagenic, endocrine disrupter and neurotoxic. Carcinogenic which are very toxic and can cause cancer is rated at less than 0.1 (<0.1), mutagenic which can cause a mutation and are toxic are rated between 0.1-1.0. Neurotoxic which are moderately toxic and can damage the brain or peripheral nervous system are rated between 1.0-10.  Endocrine disruptors can affect hormonal systems.
Gladys Shollei wants all the four categories of pesticides banned and urged the government to hatch a strategy that will ensure they are withdrawn from the market, a process poised to take several years.
She also challenged the Biodiversity and Biosafety Association of Kenya (BIBA-K), Kenya Organic Agriculture Network (KOAN), Resources Oriented Development Initiatives (RODI Kenya) and Route to Food Initiative (RTFI) to ratify the issue and set up measures that will guarantee food safety in Kenya.
"There are products in the market that cause cancer, affect our reproductive systems and lead to auto-immune diseases. There are products in the market that pose a risk to our bee populations and other important pollinators for food production.
"The food we are consuming, including fruits and vegetables that we all believe to be healthy, is likely to have harmful pesticide residues. Our farmers, who often can't afford protective gear or are not trained on how to use these chemicals safely, are at risk. By tabling this petition, we want assurance from the government and regulatory agencies that the food we are consuming is not and will not, drive us to early graves," the petition by Shollei states.
Uasin Gishu Woman Representative Gladys Boss Shollei speaking at a past event
Related