Junet Mohammed Reveals ODM Stand on Waiguru Impeachment Motion [VIDEO]
Suna East MP Junet Mohammed on Sunday, June 14 announced that the Orange Democratic Movement (ODM) would back Kirinyaga Senator Ann Waiguru as an impeachment motion looms over her head in the Senate.
Junet, a close confidante of ODM leader Raila Odinga, further addressed reports that Waiguru held a secret meeting with Raila, stating that there was nothing wrong with the two leaders meeting.
Raila had earlier issued a statement dismissing the Daily Nation front-page story and maintained that no such meeting occured to ostensibly save Waiguru impeachment.
Junet, however, asserted that ODM legislators would fully support Waiguru as the party believes in strong women in leadership.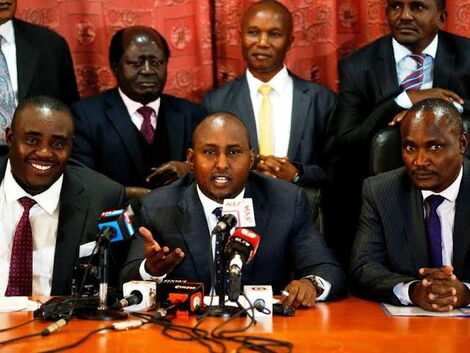 Suna East Member of Parliament Junet Mohamed during a press briefing in September 2018.
He claimed that critics of the Governor were only out to impeach her for personal reasons, rubbishing allegations levelled against her by members of the Kirinyaga County Assembly.
"Right now, women are the ones leading the country. We have women as governors in this country, even though one of them is facing some challenges but we are with her.
"She did nothing wrong, people just don't want to be led by women. As ODM party, we will stand with her because we believe in women leadership.
"We want women to have an equal chance at leadership in this country. Don't come telling me this and that nonsense, we want women to lead this country," he reiterated.
Mohamed stated that by virtue of their positions as leaders in their own right, Raila and Waiguru were allowed to meet at any time.
"I've seen in the papers they're saying Waiguru met Raila. Waiguru is a Governor and Raila is a national leader so where is the problem if they meet?
"There's absolutely no problem. They will meet anytime they want and speak to each other anytime, and Kenyans must continue walking together," he argued.
Junet spoke in Garsen, Tana River County where he was flanked by local leaders at a press briefing.
The leaders expressed support for the changes in the leadership of the majority side in the National Assembly and the Senate, further calling for development issues in Garsen to be given greater consideration.
Responding to Junet's statement, Kirinyaga Woman Representative Purity Ngirici described it as a pointer of what Kenya would look like under reforms envisaged in the Building Bridges Initiative (BBI).
"It's now more certain than ever that BBI 'shall fix' corruption. Kenyans have eyes and ears. Lockdown Capitol Hill Laundry House," she wrote, referencing Raila's private office in Nairobi.
Watch Junet's press briefing below:
Related