Kariobangi Demolitions Stopped After High Court Order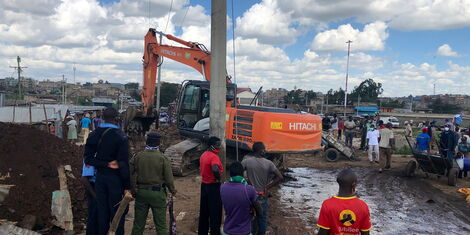 The High court on Friday, May 15, halted further demolitions of the Kariobangi North Estate until a petition by the residents is heard and determined.
Justice Samson Okong'o, through a video link, ruled that the matter would be heard on June 2, 2020.
More than 7000 residents in the area had lost their property and were left homeless after their houses were demolished in a bid to reclaim the land by the government.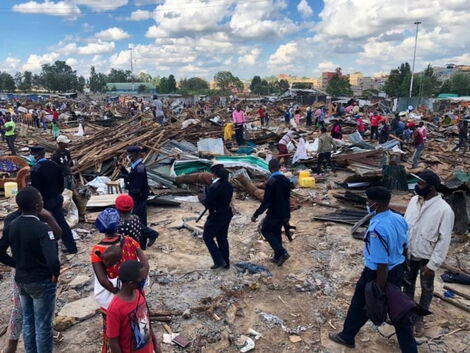 Residents pictured in Kariobangi North, Nairobi after evictions took place on May 4. 2020
On May 8, 2020, the National Government suspended further demolitions after public uproar following a closed-door meeting chaired by Interior Cabinet Secretary Fred Matiang'i.
Earlier in the day, Kariobangi residents had taken to the streets to demonstrate against evictions that left thousands homeless.
The residents burnt tires on the Kariobangi – Korogocho bridge – Komarock road junction, making it impassable for motorists.
They lamented that the demolitions were carried by the Nairobi City Water and Sewerage Company, despite the fact that the court had barred the exercise.
The happenings attracted Amnesty International, a non-governmental organisation, which wrote an open letter to President Uhuru Kenyatta, asking the government to take full responsibility for the injustices suffered by the 7,000 families.
"We call upon the Covid-19 fund authority to offer reparations and compensation to the 7,000 families who were forcefully evicted as an act of good faith to alleviate their suffering and prevent the possible spread of the virus through ensuring the vulnerable have adequate shelter and homes to stay home and safe," read part of the letter.
The organization stated that the current restrictions worsened their situation as most could not go back to their villages due to government directives that have been set to combat COVID-19.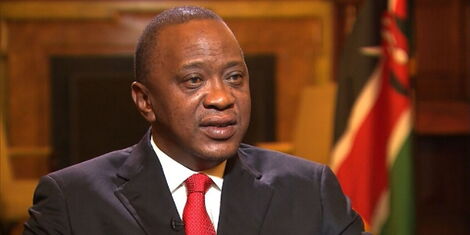 President Uhuru Kenyatta during an interview in 2018
Related