Karua, Itumbi Fault BBI Signature Collection Tactics
TWITTER
Senior Counsel Martha Karua and Digital Strategist Dennis Itumbi have called out the national government for allegedly using taxpayers money to run the BBI signature collection campaign.
The two went on to share screenshots reportedly from a section of Kenyans purporting that they had received invitations from are Chiefs to append their signatures on the BBI document.
Itumbi shared a message he reportedly received asking him to avail himself at the Chief's office and sign the BBI document.
"Chiefs collecting signatures all over. Use of provincial administration evident," one of the messages reads.
"BBI Report In Mombasa chiefs attempting to collect signatures in church… This is illegal. It's a private process not a government project, IEBC must speak out," another details.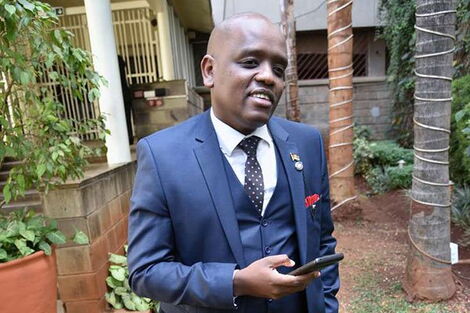 Former Digital Communications Director at the Presidential Strategic Communications Unit Dennis Itumbi.
FACEBOOK
Martha went ahead and issued a press statement at Serena Hotel in Nairobi where she called on Kenyans to reject the BBI report and termed the campaign as unconstitutional.
"We are here to reach out of the other Kenyans of like minds to join us as we build a movement the Linda Katiba to defend the constitution, defeat impunity and advance the transformational agenda that we set for ourselves a decade ago,
"We assure Kenyans that constitution of Kenya is still good document that was proclaimed as one of the most progressive in the world when we promulgated it in August of 2010," she asserted.
Their statements echoed reports shared by Kikuyu MP Kimani Ichungwah on Saturday evening November 28, claiming that his county residents were being forced to sign the document.
"Chiefs being forced to procure signatures for the Kazi Mtaani youth. They were forcing them at Kinoo & Gikambura today so as to keep their casual jobs. Let everyone make a free choice including administrators," the legislator alleged.
In an unexpected twist, the latest allegations of taxpayers money being used to push the BBI report through came just a day after Deputy President Willaim Ruto announced his support for the initiative.
The DP alluded to having played a role in amending Bomas draft of the report, before declaring his unflinching support for President Uhuru Kenyatta.
He went on to point out Article 11A in the BBI constitution which covered 'hustler economics'.
There have also been unverified allegations of  a 'no kazi mtaani salary without BBI signature', campaign by chiefs in Murang'a.
However, Senate Majority  Whip & Murang'a Senator Iringu Kang'ata shared several photos showing people peacefully standing in line as they waited to sign the document.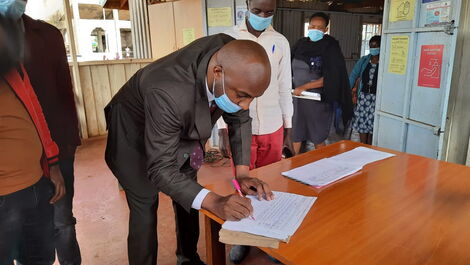 Murang'a County Senator Irungu Kang'ata pictured in the signature collection exercise on November 29, 2020.
Related