KDF Chief Reveals His Soft Side Kenyans Don't Know About [VIDEO]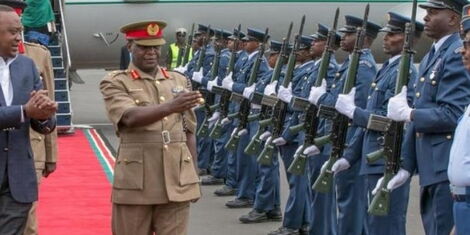 Chief of Defence Forces, General Robert Kibochi shared personal details of his life, revealing a softer side Kenyans are not quite familiar with.
Kibochi took over leadership of the Kenya Defence Forces (KDF) from General Samson Mwathethe who retired after serving as CDF for five years. The new CDF was sworn in on Monday, May 11, at State House, Nairobi.
Speaking during an interview at his office on Friday, August 21, Kibochi gave insight into his typical day.
Kibochi wakes up at the crack of dawn- 4 am- and heads to the gym for a 30-45 minute work out before having breakfast.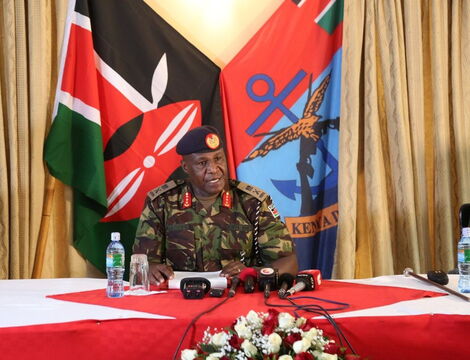 Chief of Defence Forces Lieutenant General Robert Kariuki Kibochi.
Later on, he meets a team who brief him on situational awareness, what is going on in situational dimensions like KDF located in Somalia.
Kibochi meets with his Vice Chief and four major generals dealing with operations, intelligence and logistics and later on engages Defence CS Monica Juma.
He then channels details of the briefings to President Uhuru Kenyatta through a report. The CDF is a member of the National Security Council (NSC), Kenya's top security organ chaired by the head of state.
When out of duty, Kibicho spends time with his grandson or takes his team out for a fitness program, which includes marathons and relays.
"Sometimes I also take time to look at my livestock and chicken. I hold this passionate view that one must be an all-rounded person. At some point, you have to do something productive. However, I love fitness more," the Nyeri High School alumnus stated.
Kibochi added that he joined military out of passion and his three motivating factors are loyalty to Kenyatta, the military and the country, commitment to duty and selfless service.
"Kenyans should expect more from me. Nothing less than ensuring that they are protected. That is the reason as to why they pay taxes," the CDF assured.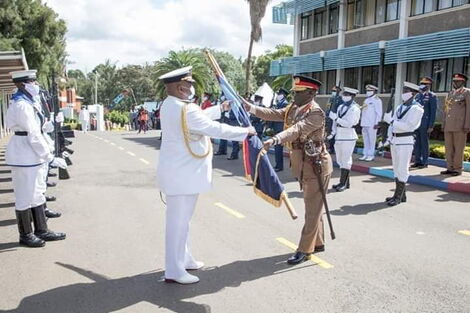 Former CDF General Samson Mwathethe (left) hands over KDF flag to CDF General Robert Kibochi at the Defence Headquarters in May 2020
FILE
Watch CDF Kibochi speak on his soft side
Related