KDF Soldier & Police Officer Feared Dead After Friendly Fire at Midnight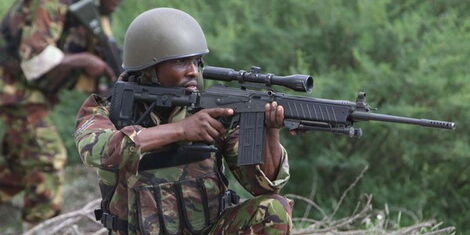 Two KDF soldiers and one National Police Service officer were reported to have engaged in friendly fire in the wee hours of Wednesday morning, May 27.
Reports reaching Tmz.co.ke newsdesk stated that the three were all injured in the shoot out that happened at 2:15 a.m. in what was described as mistaken identity.
The officers were identified as NPS Constable Emmanuel Ngao, KDF Senior private David Mbugua, and KDF Senior private Jeremy Malusi.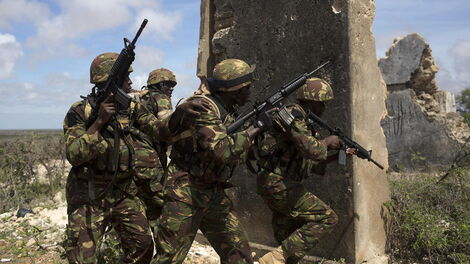 Photo of Kenya Defence Forces (KDF) soldiers in Somalia.
Ngao, who was allegedly returning from a visit to a female friend challenged the two KDF soldiers who had spotted him.
"The three officers sustained gunshot injuries and were rushed to Bura East Sub-County hospital in critical condition," Fafi police commander told reporters.
The NPS officer is said to have mistaken the KDF soldiers who were on foot for terrorists.
After sustaining serious gunshot wounds, the three officers were taken to Bura East Sub-county hospital in critical condition.
Constable Ngao and one of the two KDF soldiers are feared dead with reports indicating they might have succumbed to their injuries, while the survivor was airlifted to Nairobi Memorial Hospital aboard a Y-12 KAF aircraft.
Efforts by Tmz.co.ke to reach NPS Spokesperson Charles Owino were unfruitful as our calls went unanswered.
The officers unfortunate reaction has been attributed to being on high alert since the region has been a hotbed of terrorists, owing to its proximity to Somalia.
On May 16, President Uhuru Kenyatta closed the Kenya-Somali border to reduce the incidence of imported cases from the war-torn nation.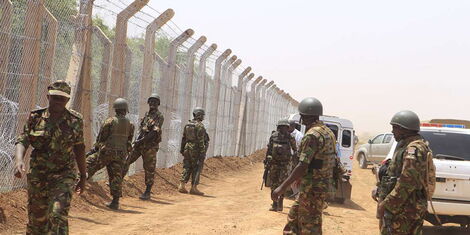 Kenya Defence Forces (KDF) soldiers inspect the security fencing at the Kenya-Somali border on February 21, 201
Related