KDF Warns of New Military Scam Targeting Kenyans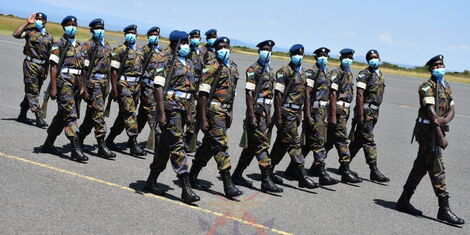 FILE
The Kenya Defence Forces (KDF) has warned of a fake military scam being used to swindle unsuspecting Kenyans.
Individuals posing as KDF officials were reported to be conducting a fake recruitment drive, targeting Kenyans who desire to join the force.
In a notice released by the military, KDF clarified that it has not conducted any recruitment drive in 2020 with the last one held in December 2019.
"This is to notify members of the public that KDF is not recruiting at the moment.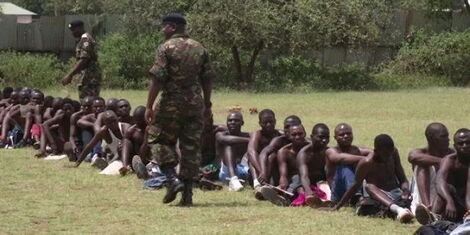 "Any persons/entity purporting to be recruiting on behalf of KDF or claiming to have influence over recruitment processes is a fraudster," the notice reads.
KDF urged any individual who had fallen prey to the scam to report the criminals masquerading as KDF or Ministry officials to the nearest Police Station, Military Establishment or the Military Police through the phone number +254743509400.
"When KDF commences the recruitment exercise, members of the public wil be notified through the Ministry of Interior website, KDF social media sites and media stations," the notice added.
On Thursday, September 3, five people masquerading as Kenya Defence Forces (KDF) officers and National Intelligence Service (NIS) officers were apprehended by the Directorate of Criminal Investigations (DCI) detectives.
The five were identified as Sharoq Afzal Shah, Jamal Hassan Ali, Fred Ngusare, Francis Saitabau and Junaid Mehmood Osman.
The suspects were arrested in two separate cars at T-Mall area in Nairobi after being on the DCI's radar for some time.
Among the items recovered during the search of the two vehicles including a pair of handcuffs, fake NIS and KDF identification cards, gate passes and walkie talkies.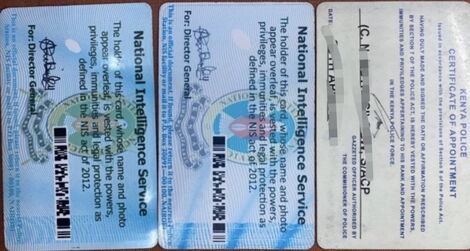 Fake Identifications Cards obtained by the Directorate of Criminal Investigations (DCI) on Thursday 3 September 2020.
Related