Kenya Power Announces 8-Hour Blackout in 5 Counties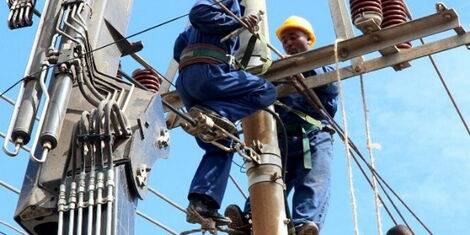 Kenya Power has announced an eight-hour blackout in five counties in Kenya, with Nairobi the most affected.
Kenya Power made the announcement through their social media pages on Wednesday, May 27.
According to the agency, the blackouts will commence at 9 a.m. to 5 p.m. on Thursday, May 28 as systems will be undergoing scheduled maintenance.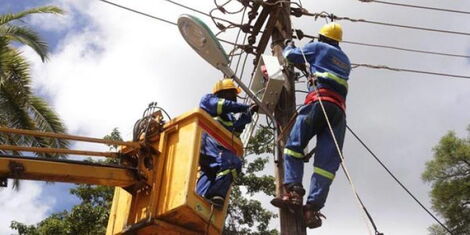 File image of Kenya Power electricians at work
Regions that will be affected will be within Nairobi, Kiambu, Machakos, Makueni and Nakuru Counties.
In Nairobi, the blackout will affect Runda Evergreen, from Ruaka Road, Runda Meadows, Flame Tree Drive, Acacia Drive, Bombax Close, Runda Police, Cheleta Primary, Daisy Road and adjacent estates.
Kasarani residents residing in ICIPE, KISE, Geo Mapping, Sports Drive Estate, Kasarani Police Station, Robiie's Club will also be affected.
Other areas within Nairobi are parts of Mukuru kwa Reuben and Parts of Pipeline Estate.
In Kiambu County, Kwihota, Sewage, Green Valley, Chura, Kabete and Wangige will experience the power outage.
Residents of Kathiani Machakos County and the whole of Kaumoni will also be affected.
In Nakuru, the whole of Maimahiu, from Maimahiu Town, Mafuta Taa, Kigecha, Mthaiga, Munui, Old Kijabe, Governor, Longonot, Kiambogo and Msafiri Sision will be affected.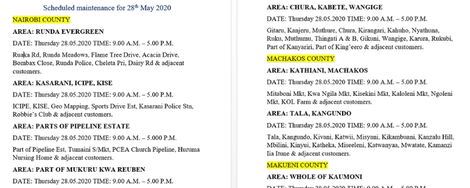 Areas affected by Kenya Power's scheduled maintenance on Thursday, May 28, 2020
TWITTER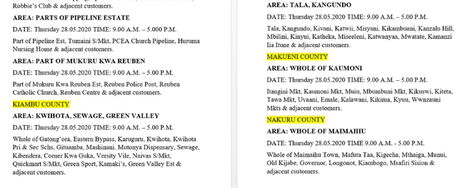 Areas affected by Kenya Power's scheduled maintenance on Thursday, May 28, 2020