Kenya Receives Ksh705M Donation From US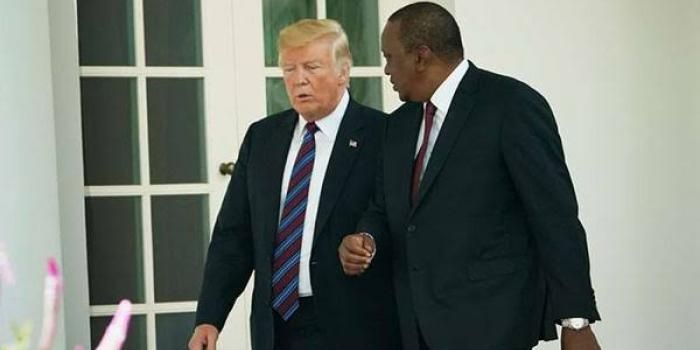 President Uhuru Kenyatta and US President Donald Trump after a meeting at the White House in Washington on August 27, 2018.
The United States government has announced a new donation of Ksh 705 million towards Kenya's Covid-19 response.
US Ambassador Kyle McCarter on Tuesday, April 28, 2020, made the announcement, further noting that Kenya's relationship with the US was an important factor.
"Just a couple of days ago, President Trump made his first call to Africa, and the big news is that that call went to President Kenyatta," Ambassador McCarter revealed.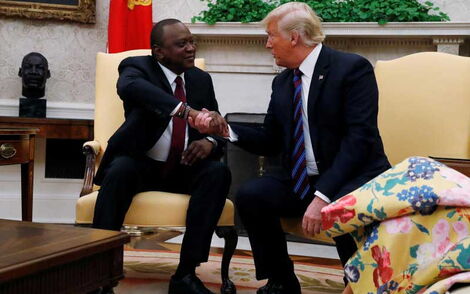 President Uhuru Kenyatta and US President Donald Trump during a meeting in the Oval Office at the White House in Washington on August 27, 2018.
"We have a special friendship, they have a special relationship and Kenya is special to the United States. You know we are working on a free trade agreement, we are working on helping with Covid-19, and we are going to be spending Ksh 705 million on Covid," he added.
The US Ambassador noted that they were excited to be able to help the people of Kenya through these trying times.
The funds will be committed towards Covid-19 activities in the country, as to support prevention, preparedness and response. The additional resources will be deployed towards surveillance, laboratory equipment and strengthening, and also cater for staff expenses.
"Nearly Ksh 193 million ($1.8 million) will be immediately released to support critical needs for the COVID-19 response in Kenya. This funding will be used to procure diagnostic sampling and testing supplies, provide county-level support, expand surveillance of COVID-19, and support health care workers in infection prevention and control practices among other key activities," a statement by the US embassy in Kenya reads in part.
Since the start of the pandemic, the US has helped Kenya with a range of activities. These have included support and training of medical staff at both the national and county level.
"With an annual investment of more than Ksh60 billion in annual support to Kenya's health sector, USA Marifiki has been committed to the health of Kenyans well before COVID-19.
"However, our commitment goes beyond funding, it's in our contribution to national policies, to investing in the healthcare workforce and to strengthening health systems. We have been working alongside Kenya's public health officials for more than five decades and continue to stand with Kenya throughout this crisis," Ambassador McCarter stated.
The US has helped with the technical response on emergency operations, laboratory diagnostics, infection prevention and control, risk communication and community engagement, and disease surveillance in the country.
US Ambassador Kyle McCarter poses with Kericho Governor Paul Chepkwony after unveiling medical equipment in Kericho on January 30, 2020