Kenyans Laud Jeff Koinange After Citizen TV Comeback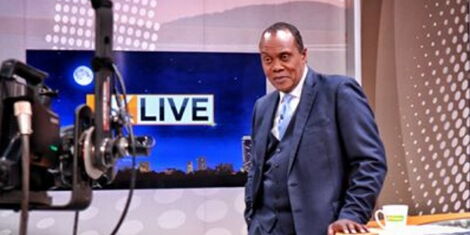 Anchor Jeff Koinange made a comeback on Citizen TV on Wednesday, July 29, much to the surprise of his followers and audience.
Koinange tested positive for Covid-19 on Monday, July 20 and announced his comeback nine days later where he interviewed Kenya Airways Board Chairman Michael Joseph on KQ resuming International flights, activist Jerotich Sii and Dr. Frank Njenga on Covid-19 and Stigma.
Before the show began, Koinange made a small joke on how he felt working from home and tested his camera on Live TV.
"Is this camera on. Wait a minute. I have to make sure this interview happens from home. Please don't panic, I am back. I tested for Covid-19 nine days ago and nine days later am still okay and standing strong," Koinange stated.
A poster shared by Citizen TV anchor Jeff Koinange before making a comeback on Citizen TV on Wednesday, July 29
He further appreciated those who wished him well, prayed for him and stood by him in different ways after he announced his status.
Koinange made an appearance on his own show as a guest on Wednesday, July 22, where he announced that he was an asymptomatic patient. While still under isolation on July 29, he made it clear that he was back to work despite being ill.
However, he did not disclose on the progress of his isolation and whether he had undergone more tests to ensure he has tested negative.
During the show, Michael Joseph lauded the government's decision to have KQ resume flights to boost the economy. Jerotich Sii who also tested positive for Covid-19 urged those who test positive to share their statuses to encourage others facing stigma.
Kenyans were full of praise for Koinange, lauding him for taking the step to return to work while still under isolation.
"To my brother Koinange, I am wearing a mask as I watch you on TV today. I am not taking any chances. However, you look good. Be well and be strong Jeff," analyst Mutahi Ngunyi tweeted.
"Most people see Jeff hosting JK Live, I see hope and confidence that we can beat Coronavirus," blogger Xtian Dela added.
One Peter Kariuki stated that Jeff Koinange hosting a show while he is Coronavirus positive shows that individuals should not be stopped from running their daily activities by Covid-19.
Fellow anchor Waihiga Mwaura also worked from home on Tuesday, July 28. Responding to a comment from a viewer he explained, "with the pandemic, we were told work from home if you can and that is what we are trying to do here."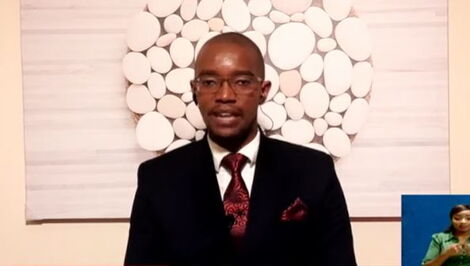 Citizen TV News anchor Waihiga Mwaura during a bulletin on July 29, 2020.
Video: Citizen TV
Related