Kenyans Share Chilling Covid-19 Experiences
At around 3:30 pm every day, it has become the norm for the Ministry of Health officials to show up on television screens across the country and update Kenyans on the current Covid-19 status.
For many, the statistics remain just but numbers, having not been affected directly by the disease while for others, the statistics are a representation of themselves or their loved ones.
A Twitter user by the name Caroline asked the question; "Do you personally know someone who has Covid-19? How are they faring?"
The remark has since been retweeted 1,600 times, with the comment section flooded by netizens who are survivors of the disease and others who have lost loved ones to the scourge.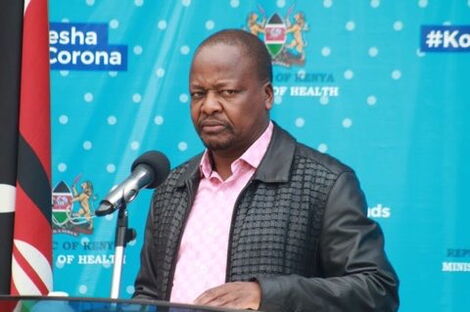 Health Cabinet Secretary Mutahi Kagwe speaking during a presser outside Kenyatta National Hospital, April 2020.
"I'm one. Tested positive and was put in isolation. 10 days later it got worse, I was diagnosed with pneumonia and a bilateral pulmonary embolism (clot in both lungs). I'm out now after spending 37 days in hospital. I'll be on anticoagulants for 3-6 months," a user by the name Tobi stated.
"I knew two in Mombasa. They both died. This thing is real guys and stigma isn't making it any easier. Let's destigmatize Covid-19, please. It will make it easier for people to step forward for treatment," Samia Omar weighed in.
"All this time, I have been thinking Covid-19 is a scam by the government to get donor funds from abroad. I'm shocked that there are people who have actually suffered from it," Gacheru Kariuki expressed.
"We are actively planning for a funeral. His wife and daughter can't attend because they have been quarantined," another noted.
"My aunt has it and she's fairing well. She's at MP Shah," Monica Odhiambo commented.
So far, the Ministry of Health has confirmed 3,727 Covid-19 cases. Of these cases, 1,286 have recovered while 104 have died.
Globally, more than 8 million Covid-19 cases have been confirmed with 4.1 million having recovered and 436,000 dead.
Health CS Muthi Kagwe has warned Kenyans a number of times on the looming danger Covid-19 poses and how to avoid it.
"Don't wait to hear someone you know has died; that someone could be you," he previously cautioned.
Some of the ways one can prevent themselves from getting the disease include; washing hands regularly, wearing face masks and maintaining social distancing.
Below are more comments;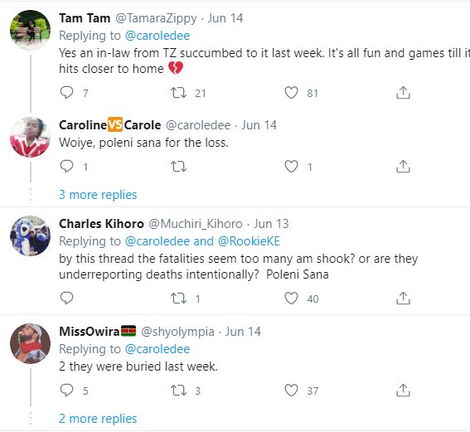 A screenshot of the responses.
TWITTER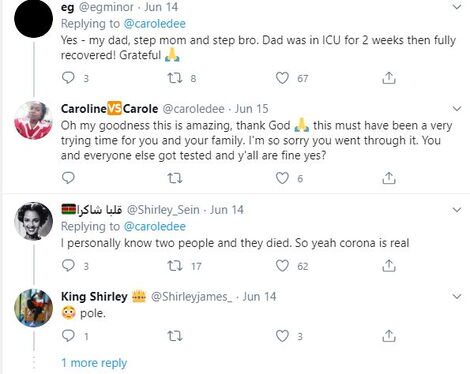 A screenshot of the responses.
TWITTER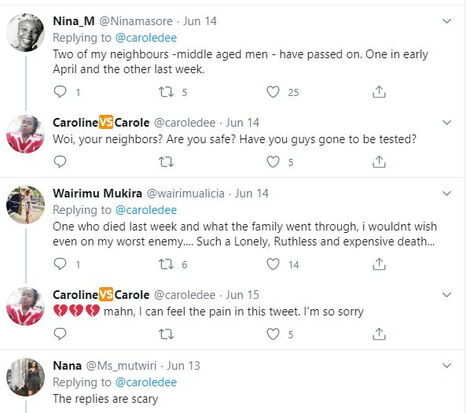 A screenshot of the responses.
Related